John Travolta & Vin Diesel: Anatomy of a Hollywood Gay Rumor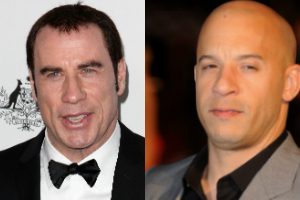 Another day, another gay rumor for John Travolta. Why do some celebrities like the Pulp Fiction star, XXX star Vin Diesel and George Clooney continue to face gay rumors? And how do they address them?
News broke Thursday (June 21) that author Robert Randolph was suing Travolta for libel. The trouble started after the married star and his lawyer made statements about Randolph and his book You'll Never Spa in This Town Again, in which he claimed he had a gay affair with the star. 
For decades, men have made wild accusations in tabloids like the National Enquirer, claiming they had sex with Travolta. Just this year, he faced allegations of sexual misconduct by three unnamed male masseurs. And he's always adamantly denied it all — and in many cases, he involved his lawyer Martin Singer. 
After rumors reached a fever pitch, Vin Diesel finally spoke out in 2006, slamming rumors he is gay and remains defiant about keeping his personal life private. 
Why don't we ever see him with women? Diesel says it's because he prefers to date in Europe, where he can go relatively unrecognized and thinks celebrities dating other famous people is a terrible idea. 
But George Clooney has perhaps the best tactic of all. Clooney addressed gay rumors about himself earlier this year in The Advocate. 
The Descendants star dismissed a strategy of vigorous denial that other celebrities turn to, saying, "Who does it hurt if someone thinks I'm gay? I'll be long dead and there will still be people who say I was gay. I don't give a sh*t."
More:
Vin Diesel Reveals New 'Chronicles of Riddick 2' Pics
Angelina and Brad's Engagement Lets Gay Americans Down
Masseur Sues John Travolta for Sexual Battery
---
You Might Also Like:


15 Oscar-Winning Nude Scenes


Topanga's Revealing Lingerie Shoot: Hello '90s!