Justin Bieber and Chris Brown Battle It Out at Basketball Game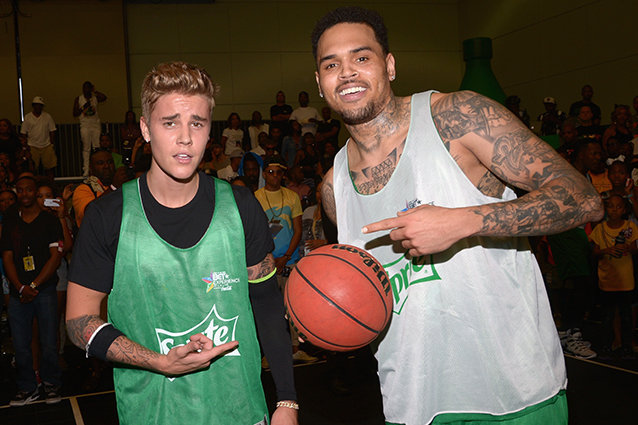 Getty Images/Jason Kempin/BET
Troubled pop stars Justin Bieber and Chris Brown showed off their sporting skills by going head-to-head at a celebrity basketball match on Saturday (28Jun14).
The pals, who have both faced legal troubles in recent months, joined the likes of Snoop Dogg, The Game, Tyga and Soulja Boy for the game, which was part of the annual BET Experience festivities leading up the BET Awards show on Sunday (29Jun14).
Brown, who has kept a low-profile since being released from jail earlier this month (Jun14), managed to defeat Bieber's team in overtime with a winning shot by Snoop Dogg.
Despite the loss, Bieber's spirits were not dampened as he shared snaps from the game on his social media accounts and thanked organisers for letting him take part.
In a Twitter.com post, he wrote, "Thank you to everyone at BET for having me today at the game. Honoured to play and thanks for being so kind."
Brown spent more than two months in prison for violating his probation relating to his assault on ex-girlfriend Rihanna in 2009. He walked free on 2 June (14).