Lana Del Rey Splits From Barrie-James O'Neill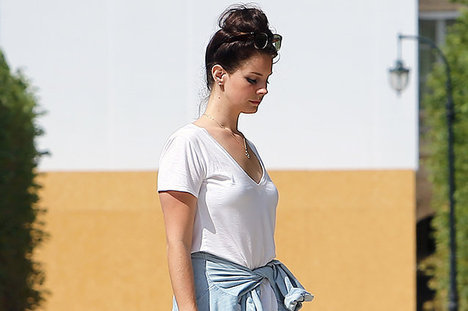 Splash News
Singer Lana Del Rey has split from her longtime boyfriend Barrie-James O'neill. The Young & Beautiful hitmaker had been dating the former Kassidy star since 2011, but she recently revealed the two are no longer a couple.
She says, "We are currently not together. He is a wonderful person. But there are some things with which he has to deal. I will not explain it in detail. This was hard on our relationship; I no longer felt free. We'll see how it goes."
The sad news comes just days after Del Rey felt the need to explain comments she made during a dark interview with Britain's The Guardian newspaper, during which she told reporter Tim Jonze, "I wish I was dead already".
The singer's disturbing comments stunned many of her fans and she took to Twitter.com late on Thursday (19Jun14) to try and explain herself. In a series of messages, Del Rey accused Jonze of acting in a "sinister" manner, writing, "His leading questions about death and persona were calculated but hiding sinister ambitions and angles… "I regret trusting the Guardian – I didn't want to do the interview but the journalist was persistent."
Jonze has since defended his article, stating, "Ultimately, the problem with Lana's complaint is that she doesn't seem to know what she's actually complaining about. She's not alleging that I made up her quotes, nor is she claiming that they've been 'twisted' or that we've printed them out of context. Instead she seems annoyed by the fact I wanted her to say interesting things and asked questions that caused her to do so. Well sorry, Lana, but that's just me doing my job."