Matt Damon still 'in shock' after Boston marathon bombings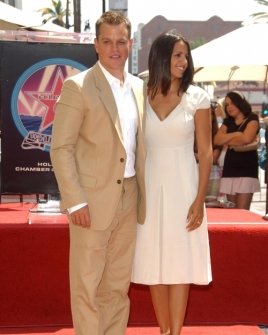 Actor Matt Damon has broken his silence after the Boston Marathon bombings in his native Massachusetts, revealing he is "still in shock" following the tragedy. The Good Will Hunting star, who was born and raised in Cambridge in the Greater Boston area, returned to his hometown this week (28Apr13) to accept a special accolade at Harvard University.
Damon admitted that his homecoming was particularly emotional in light of the bombing horror, which claimed three lives and left more than 260 injured when two explosions ripped through the crowds near the finish line at the famous race.
Speaking at Harvard on Thursday (25Apr13), the Hollywood star told the crowd he was particularly shaken by the atrocity because one of the suspects, 19-year-old Dzhokhar Tsarnaev, was a student at Cambridge Rindge & Latin School, where Damon and his pal Ben Affleck studied. He said, "Particularly right now, it's good to be back in Boston. I went to school where the youngest bomber went to school, and was just talking about all the happy memories I had there. And my nephew goes to school there now. I think we're all still in shock. I certainly am still in shock, and I'm trying to figure out what this all means and how it could happen."
A second suspect, Tsarnaev's 26-year-old brother Tamerlan, was killed in a shootout with cops on 19 April (13).