Ministry Guitarist Collapses on Stage, Dies at 47: Tragic Details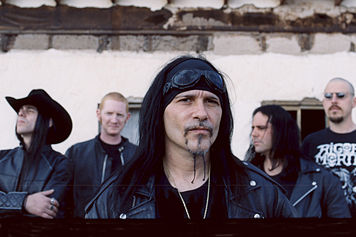 Mike Scaccia, 47, lead guitarist for heavy metal band Rigor Mortis and former member of Ministry died suddenly after collapsing on stage in Fort Worth, Texas, early Sunday.
The father of four was pronounced dead after being rushed to a local hospital. 
The Tarrant County medical examiner's office listed a sudden heart attack caused by heart disease as the cause of death, according to the Fort Worth Star Telegram, (although some early reports suggested it might have been caused by a strobe-light induced seizure). 
Ministry frontman Al Jourgensen later posted a statement on the band's Facebook page: "I just lost my lil' brother and my best friend – the 13th Planet compound is devastated, completely in shock and shattered," he wrote about Scaccia, who was called "one of the most original and influential musicians to ever come from North Texas."
"Mikey was not only the best guitar player in the history of music, but he was a close, close, close part of our family— and I just lost a huge chunk of my heart today," Jourgensen continued. "Our lives are forever changed. Life without Mikey is like orange juice without pulp — kind of bland. I have no words to express what this guy meant to me, my family, my career… Everything!"