Mugly The World's Ugliest Dog: 4 Shows Made Better by Him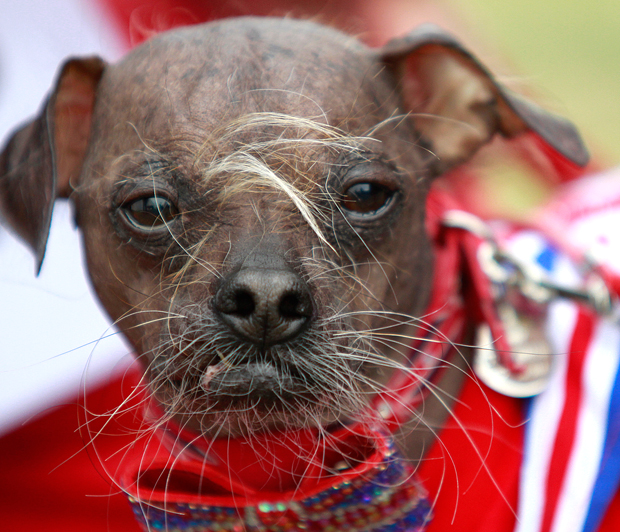 Look at this face! What a puddin', huh? The world came out in droves to Petaluma, California yesterday in order to catch a glimpse of the crowning glory of the animal kingdom: Mugly. The Chinese Crested pooch was been (shockingly) named the World's Ugliest Dog, somehow! And what does a pooch win when crowned the ugliest pup in the world (Mugly is from Britain)?
Well, a year's supply of dog cookies and a grand prize of $1,000. But really, this all is just a jump-off point for our fair Mugly. If Mugly is smart about all this, he has the opportunity to take over where Uggie leaves off when he retires next month. It's been my life goal to be an agent for up-and-coming mammal stars, so what better time than now to enter the fold of animal management than now? I've come up with several opportunities for the animal world's next biggest star. Read on to find out where we (should) see Mugly next if he wants to take over the world as he rightfully should.
Guest Star on Two and A Half Men
The show's casting of Ashton Kutcher has been able to keep the show afloat, but if Chuck Lorre really wants to take the hit to the next level, they should ditch the Kutch and get Mugly on board. I mean, think about it: Ashton, out on a long holiday is replaced by Mugly, who comes into town on a whim and a dream. Mugly pals around with pooches from the wrong side of the track, but remains aloof and lovable in the end. His hijinks include an epic quest for his lost bone on the daily, and constantly farting while blaming it on Alan, who feels undermined and emasculated by the dog's constant need for…tail.
Mugly Takes Over ;The Jersey Shore'
GTL? For the Jersey Shore kids, it might mean Gym, Tan, Laundry, but to Mugly it's more like SWE: Sleep, Wag, Eat. Mugly' gives the gang a run for their money with his hard-partying ways–and how he's always humping random stranger's legs on the boardwalk. Surprising to no one, this behavior makes him a perfect wingman for The Situation; they go out and pick up dogs every night–but only Mugly ends up scoring in the end. The merchandising money he makes from Mugly swag allows him to really follow his dream of creating a hair-growing creme for dogs.
Mugly Joins Downton Abbey
What better time for Mugly to show off his acting chops (and really ruffle the feathers of the Dowager Countess), then show up to the venerable estate as the companion of Shirley MacLaine aka Cora's mother from America. Their arrival at Downton Abbey has everyone thrown into a tizzy by their curious American ways. Mugly's life is turned upside-down when he meets Lord Grantham's dog Isis, and the star-crossed lovers leave us wondering will they or won't they well into the fourth season.
Mugly Gets a Bachelor Spin-Off
Mugly becomes the most controversial Bachelor to date, as he immediately takes to dry-humping every she-dog that crosses his threshold. Chris Harrison offers sage advice and wisdom, trying to make sure that his decision is a good one. He ends up sleeping with several of the dogs on the show, leaving him the father of no less than fifty pups.
So, you see: branding is everything, and Mugly needs to strike while the iron is hot. What do you think of our suggestions for Mugly's future Hollywood career? Let us know, below!
Follow Alicia on Twitter @alicialutes
More:
Cute or Creepy? World's Ugliest Dog's Owner Says "He's Beautiful"