Olympics Round-Up: The End is Near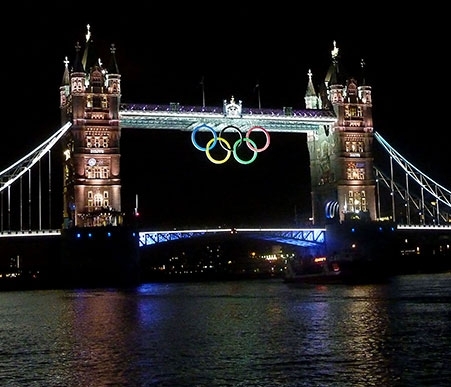 Day 15. Day 15, people! Seems only fitting we turn to Taylor Swift's song, "Fifteen," for advice on what we should do on this second-to-last round-up.
She sings: "You take a deep breath and you walk through the door. It's the morning of your very first day." We hate to interrupt, Taylor, but it's actually day 15, remember? Nowhere close to the first day. What's that? "And you say hi to your friends you ain't seen in a while. Try to stay out of everybody's way." Oh, okay. So, we'll just be over here recapping the day's events if anybody needs us.
Freaky Friday, er Saturday: Today's track and field seemed to leave us with a small case of deja vu. Yesterday Team USA women won gold — and broke a 27-year-old world record — in the 4x100m relay. Well, today they won gold again; this time in the 4x400m relay. They beat Jamaica (again). Hence deja vu. Ready for more?
Yesterday the American guys won silver in their 4x400m relay. Today? Another silver in another relay — 4x100m. Freaky, right? Though yesterday Team Bahamas beat them; today Jamaica. Tomato, tomato. And what's equally impressive is that by the end of track and field today, Team USA has a whooping 100 medals. Fifteen more than China, and 22 more than Russia. There's something to be said for the land of the free.  
Olympic Sports 101: For those of you unfamiliar with every Olympic sport — we know, it's hard to keep up — let us fill you in on cross-country mountain biking. A little history lesson: the sport made its debut in Atlanta in 1996, and when it did, we Americans were good at it. We even medaled. But since that time? Not so much. The shiny stuff has been elusive to us until today. The 32-year-old Georgia Gould — who finished eighth in Beijing — is bringing the bronze medal back to Idaho. No not Georgia, Idaho. Georgia is her name. Idaho is where she lives. Try to keep up.
Game, Set, Silver: The final match in women's volleyball came down to either USA or Brazil getting the gold. Seeing as how the Brazilians are hosting the next Summer Olympics — we thought it only fair, being the polite neighbors that we are — that we give it to the South American country. Let's call it an early hosting present, shall we? Just don't forget our act of kindness four years from now. Mmmk?
Jump Up, Jump Up, and Get Down: Five seems to be the magic number today. Day 15. U.S.'s fifth consecutive gold medal in women's basketball. The ladies beat France 86-50. Sorry Frenchies, but at least you still have the chocolate croissant.
Greg Louganis, Who?: Looks and a gold medal? Sometimes God gives with both hands. So not fair. Twenty-three-year-old cutie-patootie David Boudia became the first American to earn a gold medal in the 10m platform diving event since Greg Louganis did it in 1988. (Boudia was one when Louganis won. Talk about making a guy feel old.)
[Photo Credit: WENN.com]
More:
2012 Olympics: Casting the Movie Version
Olympic Superlatives: The Best and Worst from London
Win a Gold Meme Medal with These Hysterical LOLympics