One Direction Tops Taylor Swift, But Rihanna's Ready to Overthrow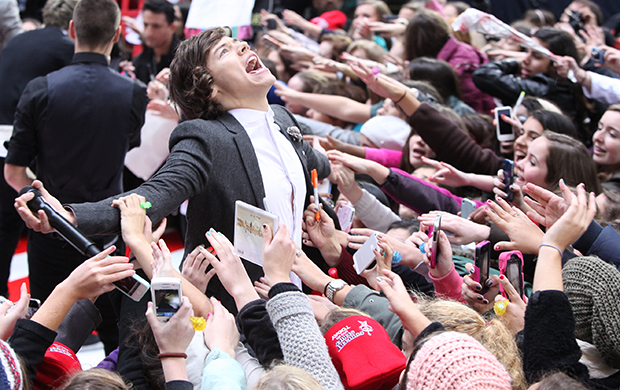 Sorry all of you pop-hating hipsters out there. Squeaky clean pop music seems to be unstoppable on the charts right now.
British boy band One Direction hit the Number 1 spot on the Billboard charts this week, selling 540,000 copies of their latest album Take Me Home. It's the third highest-selling debut this year and the British boy band now ties Justin Bieber to be the only artists of 2012 to score two Number 1 debut albums in the same year. 
In her third week on the charts, Taylor Swift stayed strong at Number 2, selling 144,000 copies of Red. (As of this week, the album will have scanned about 1.8 million copies sold since its October 21 release.)
But (despite some recent public relations drama on her 777 tour), it's likely that Rihanna will steal the top spot away from One Direction this week with her seventh album in seven years, Unapologetic.
However, expect it to be a particularly friendly rivalry, since both One Direction singer Harry Styles and RiRi have professed their admiration for each other. 
"Harry, yeah. I watch their videos and I remember thinking, 'Wow, he's a star,'" Rihanna said recently. "He seems very sure. It seems, like, it's so natural to him."
When he heard about the comments, Styles replied, "That is absolutely incredible. I'd love to hook up."
Well, young man, you'll have a date on the charts!
[Photo credit: Wenn]
More:One Direction's Zayn Malik Accused of "Enticing Jihad" by Intolerant BloggerTaylor Swift is the Same as Crystal Meth and This Video Proves It
Chris Brown Tests Positive for Drugs, Continues on Probation for Rihanna Case