Out of the Closet — 'A Queer History of Fashion: From the Closet to the Catwalk'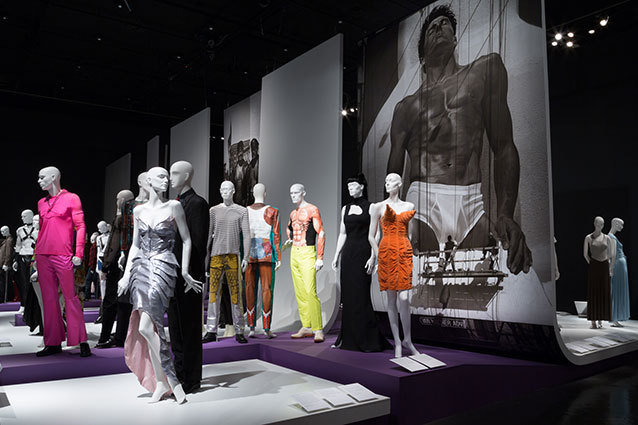 The Museum at FIT
We all know there are professions that are presumptively queer. Take fashion, for instance. It's so blindingly gay, why even bother talking about it?
A Queer History of Fashion: From the Closet to the Catwalk  at New York's Museum at FIT not only answers that question squarely, it plants a long-overdue flag on queer turf no one has bothered to claim yet, and beats the bushes for meaning in a form of cultural production under-analyzed in terms of Queer Theory, frocks and trou.
From the scandalous 1920s garçonne lesbians who kick-started modernism to the forgotten punk homoerotica of Vivienne Westwood's World's End boutique, the exhibition unveils treasures and gives them full context. There is Andre Walker's Love Ball collage dress, Jenny Shimizu's blistering boyswear, Liz Collins' flounced Lumberjack Goddess Dress, and a Klaus Nomi Constructivist superhero costume. It even makes a place for '70s clone wear and both AIDS and LGBTQ activist T-shirts.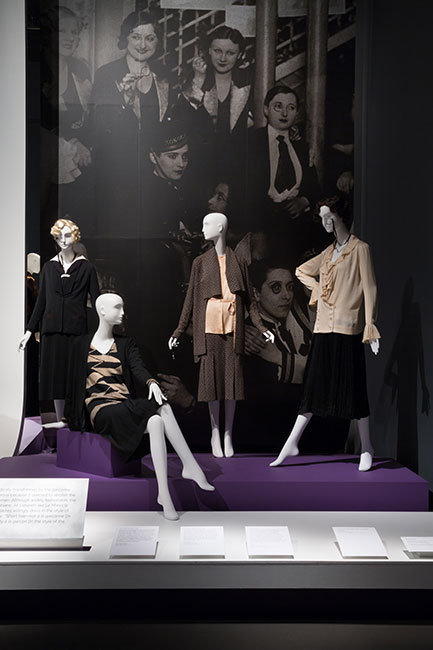 The Museum at FIT
The exhibition also marches right up to any and all queernesses hiding in plain sight and calls them out, literally: it refers to Marlene Dietrich as "the best dressed man in Hollywood," and freely claims design legends that are never discussed in terms of their sexuality, such as Cristóbal Balenciaga and Christian Dior.
What it lacks in scale it more than makes up for in content, so leave yourself lots of time: there are videos and very rich texts. And students of queer and gender studies should make room on their bookshelves for the catalogue.