Remembering Celeste Holm: 5 Interesting Things to Know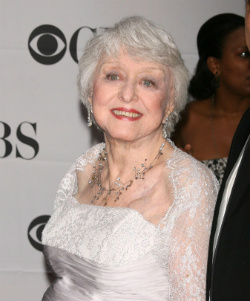 Oscar-winning actress and Broadway star Celeste Holm died Sunday at 95. 
She was known to generations of fans thanks to her work in film and on television. And she lived a fascinating personal life outside of the spotlight. Some interesting facts: 
* In 2004, on her 87th birthday, Holm married a man 46 years younger than her — opera singer Frank Basile, age 41.
* She won the Academy Award in 1947 for best supporting actress for her performance in Gentlemen's Agreement and received Oscar nominations for Come to the Stable in 1949 and All About Eve in 1950. 
* She didn't love Hollywood. "Oscar Hammerstein told me, 'You won't like it,'" she once said. Hollywood "was just too artificial. The values are entirely different. That balmy climate is so deceptive." 
* Her last big screen role was in
Still Breathing
, playing 
Brendan Fraser's
 grandmother. 
* Her son is credited with coining the term "hypertext." 
More: