Fitting Rooms Be Damned – New Kinect-ed Fashion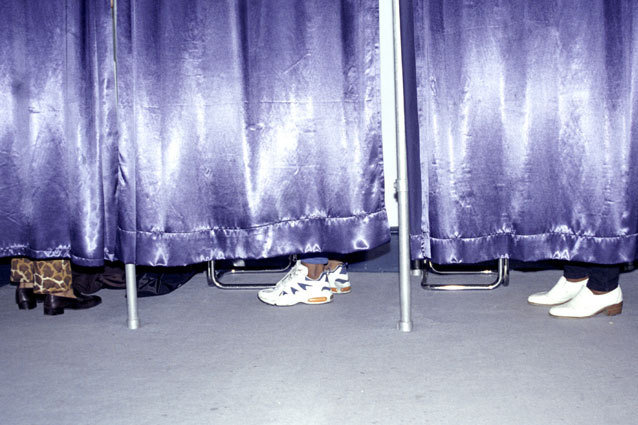 Getty Images
The future has finally caught up with our imagined future, as new technology seeks to bring us the virtual closet that we've all dreamed of — ever since Cher Horowitz matched her mini skirts and knee socks together.
We've always considered fitting rooms a special circle of hell. Don't even get us started on the summer ritual torture of swimsuit shopping, but before we start to sound all 'Cathy' on you, it seems that trying on clothes at stores may soon be a thing of the past.
The software company Facecake has introduced their 3D virtual dressing room called Swivel powered by Microsoft Kinect technology. Now the Xbox Kinnect can be used for more than just virtual Zumba. Retailers can scan their clothing items, as shoppers stand in front of the display and "try" on endless options of outfits, from clothing, necklaces, purses and even lingerie.
The new application has already been tested at department stores like Bloomingdales during Fashion Week and is poised to make an appearance in more stores come spring. While the platform is still only available to retailers, the plan is to make it available for consumers to use at home, where they can see how their online purchases will look and can upload their own wardrobe to mix and match. To any of those who do the majority of their shopping online – you'll never have to deal with countless returns and post office nightmares again.
In the same vein of "personal" e-commerce, another website, Qvit, uses the idea of avatars for consumers to shop without trying on any physical product or even visiting stores. After creating an account, you submit your body measurements and can browse by matching clothes to your virtual avatar. They also have personal features like a "heat map" that shows where clothes would fit too snugly in certain areas — without the added embarrassment of trying to wiggle your way out of a piece of particularly ill-fitting clothing under prison lights. Sign us up.