So Romantic! The 10 Best Movie Kisses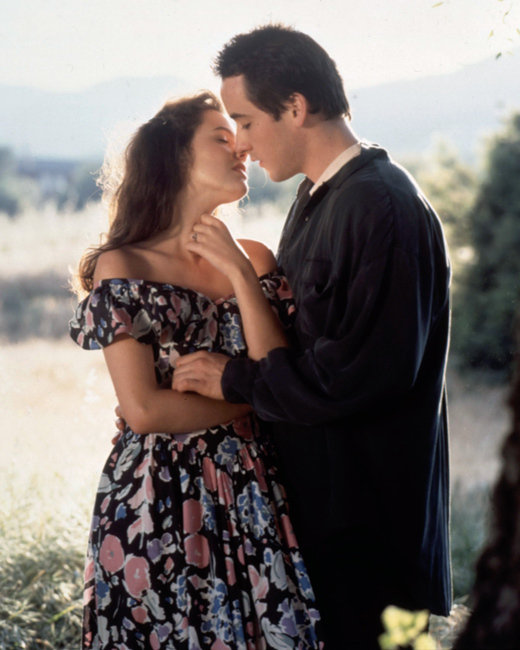 20th Century Fox Film via Everett Collection

Kissing is as much a part of movies as car chases and sarcastic best friends. All kinds of kisses have been captured on film, but there are some more than others that make us swoon as lovers lips join together.

We're taking a look at the most memorable kisses in film from the '80s on, including the Worst Kisses and the Most Perplexing Kisses. Here, however, are the kisses that made our hearts flutter.

Anna and Kristoff, Frozen

"I could kiss you," Kristoff says as he gleefully picks Anna up in the air. We watched the animated pair bond over an adventure to save her sister, Elsa, from the wrath of hostile villagers. The comment leads to a peck on the check that morphs into an embrace. Disney princesses always get their big kiss, but few are as well earned as Anna's.

Sandra Bullock and Bill Pullman, While You Were Sleeping

You would expect a couple to have kissed — really kissed, not an under-the-mistletoe peck — prior to getting engaged, but such was not the case for Bullock's Lucy and her true love, Pullman's Jack. Falling in love while she pretended to be the fiancée of his in-a-coma brother, the pair skipped right to the ring after Jack (and his family) realized they couldn't live without Lucy. Sealing a marriage proposal with a kiss has never been sweeter.

Matt Damon and Emily Blunt, The Adjustment Bureau

The movie, about a shadow agency that controls everyone's lives, is a bit of a mess. What can't be denied, however, is the crazy chemistry that exists between Damon's politician and Blunt's mystery woman. Blunt follows Damon into the men's room at the Waldorf Astoria and strikes up a conversation about crashing a wedding. How does that lead to a passionate kiss? Well, what else were they going to do in the bathroom?

Jamie Foxx and Kerry Washington, Django Unchained

Quentin Tarantino is not known for romance, but in his Western epic, Foxx's Django is driven by only one thing: the desire to save his wife, played by Washington, from the clutches of a nefarious slaveowner. When Foxx finally tracks her down, trapped on a plantation owned by Leonardo DiCaprio's bad guy, we're treated to a slow, sweet, reverberating moment as Washington gradually realizes that her love has come for her. The kiss begins within a chilling silhouette until the camera turns to show the passion of lovers reunited.

Michael Cera and Kat Dennings, Nick and Norah's Infinite Playlist

Cera and Dennings' mixed-up teens actually kiss moments after meeting one another, as Dennings asks him to be her boyfriend for "five minutes" so that she can dupe a rival (who happens to be Cera's ex) into believing she isn't dateless. The real kiss, though, comes later on, as Dennings' Norah takes guitar aficionado Nick to see Electric Lady Studios. One thing leads to another and soon Dennings' impossibly full red lips are working overtime.

Heath Ledger and Jake Gyllenhaal, Brokeback Mountain

Much has been made over the years about the love scenes shared between Ledger and Gyllenhaal, even leading to a hilarious Jonah Hill rant in Knocked Up about the lack of explicitness. The duo brought a palpable passion to the movie in full, but there is something special about the urgency of the scene wherein Ledger's Ennis sees Gyllenhaal's Jack Twist from his apartment window and rushes to embrace him. As Ennis pushes Jack into a stairwell, the two attack each other like a pair of hungry wolves, throwing caution to the wind. Nearly 10 years later, the scene has lost none of its original impact.

John Cusack and Ione Skye, Say Anything…

Few teen romances have been as influential as Cameron Crowe's story of a high-achiever falling for the earnest slacker that dares to ask her out. As you would expect, there are multiple kisses throughout as the duo fall head over heels, including a particularly sweet embrace in the rain. It's when Skye's Diane Court realizes that she needs Cusack's Lloyd Dobler that takes the cake, though. The fact that she kind of distracted him during a sparring session, causing him to get his nose bashed in by Don "The Dragon" Wilson moments before only adds to the tenderness.

Leondardo DiCaprio and Kate Winslet, Titanic

Back in 1997, seemingly every woman on the planet wanted to trade places with Winslet's Rose. The romance aboard the doomed ship left movie audiences teary-eyed long after the credits rolled. In the iconic scene, DiCaprio's Jack takes Rose to the railing of the ship and extends her arms outward, making her feel as though she's… well, why not let her famous line tell the story. "I'm flying, Jack!" Rose exclaims, before Winslet turns backwards to let her lips meet DiCaprio's. No matter what happened after, thanks to Celine Dion, we're always assured that their hearts will go on.

Cary Ewles and Robin Wright, The Princess Bride

"Since the invention of the kiss," Peter Falk's narrarator intones in Rob Reiner's much-loved fantasy, "There have been five kisses that were rated the most passionate, the most pure. This one left them all behind." Such is the power of the happy ending smooch that Ewles' Westley lays on Wright's Buttercup. For a guy that was "nearly dead" not long before, and a woman almost forced to marry a prince — not to mention that trip through the fire swamp — that seems like a fitting reward.

Molly Ringwald and Michael Schoeffling, Sixteen Candles

Ringwald's Sam had an epically bad birthday. Her family, preoccupied by her sister's impending wedding, forgets that it's even happening and the geeky Farmer Ted (Anthony Michael Hall) has parlayed a pair of her panties into a money-making venture. Worse, she's hopelessly in love with Schoeffling's senior dreamboat, Jake Ryan. As she exits her sister's nuptials and the crowd parts, there is Jake leaning against his sportscar waiting for her. As teen fantasies go, it's a hard one to top. Sam finally gets a birthday cake with the namesake candles and a sweet kiss from Jake to boot. It may have been a bit of a fire hazard, but it sure was romantic.