12 New DreamWorks Films Include 'Train Your Dragon' Sequels, Seth Rogen Ghost Movie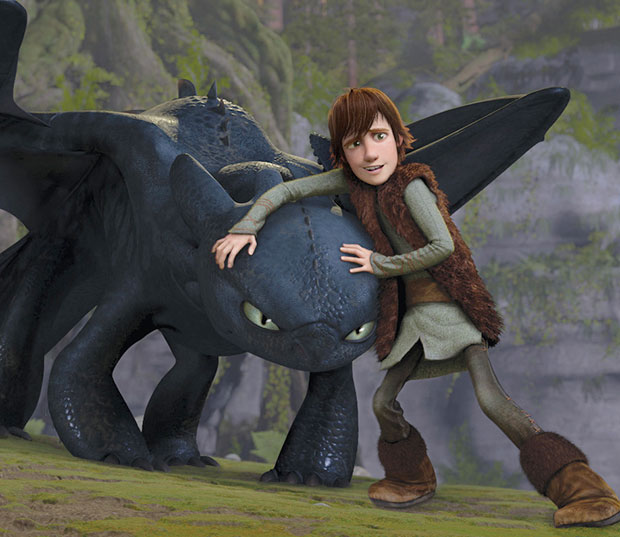 For a decade and a half, Pixar has maintained an unchallenged claim to the most sparkling reputation among its animation studio brethren. The CGI production company has earned critical favor by developing one quality film every one to two years since 1998 (with the Cars outliers in '06 and '11). It's a risky schematic — the "all your eggs in one basket" play can really make or break an outlet. Luckily for Pixar, the vast majority of their attempts have been triumphant. But DreamWorks seems to be opting for another strategy. A sort of "throw spaghetti at the wall and see what sticks" philosophy. The company has announced a list of 12 (yes, 12!) developing movies to be carried out over the course of the next four years; this is the largest slate of projects any animation studio has undertaken.
Among the titles are How to Train Your Dragon 2 and 3 (with the threequel being a new announcement) and B.O.O.: Bureau of Otherworldly Operations, which will star Seth Rogen (who has lent his voice to DreamWorks flicks like Monsters vs. Aliens and the Kung Fu Panda movies).
Additional project titles for DreamWorks through 2016 include sequels/spinoffs like Kung Fu Panda 3 and The Penguins of Madagascar, original concepts like Me and My Shadow, Happy Smekday!, Turbo, Trolls, Mumbai Musical, and The Croods, as well as a feature adaptation of Mr. Peabody & Sherman (based on the Jay Ward cartoon shorts that aired as segments on The Rocky and Bullwinkle Show). The slated dates for these pictures range as early as March of 2013 (The Croods) to March of 2016 (Kung Fu Panda 3).
So is this the preferable strategy? As far as attracting audiences, DreamWorks might be working the right angle — animated family films almost always perform remarkably well, franchises especially (of the 12 named projects, four are followup features to very successful movies). But Pixar's undivided dedication and attention to each film is likely what results in such outstanding quality per picture. Sure, many of the above DreamWorks projects could very well turn out to be critical favorites. But it's unlikely, due to this division of labors, that any of them will have the impact of a Toy Story or a Wall-E.
[Photo Credit: DreamWorks]
More:
DreamWorks Buys 'Gumby', 'Casper', 'Dick Tracy', 'Lamb Chop', Everything Else You Love
Pixar Goes Horror? Studio Announces Scary New Film
Animated Movies That Make Us Cry
From Our Partners:

Relive Ryan Reynolds' Sexiest Looks — GALLERY
(Celebuzz)

John Mayer Involved in Ponzi Scheme Lawsuit: Report
(Celebuzz)