'127 Hours' Hits Blu-ray and DVD in March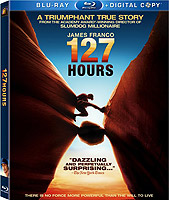 So maybe you weren't able to watch the scene from 127 Hours in which James Franco's character severs his own arm in order to survive without turning your head away, and if that's the case then today's you're lucky day. Danny Boyle's Oscar-nominated film and Franco's Oscar-nominated performance are slated to hit Blu-ray and DVD on March 1, so you'll finally have a chance to get a better look at that flinch-worthy scene, and if you've got a Blu-ray player, you'll see it in incredible high-definition! Awesome, right?
The film follows the true story of Aron Ralston, an adventurer who gets trapped under a boulder in the Utah mountains when he ventures out by himself. Boyle follows his solitary journey as he endures the unthinkable situation in which Ralston finds himself. The DVD will offer up the usual commentary and deleted scenes, but the Blu-ray ups the ante a bit by including featurettes about the relationship between Franco and Boyle as they filmed 127 Hours and the actual events that aided Ralston's eventual rescue in Utah. From the looks of these special features, you can take a look at how closely Boyle was to the story that inspired his acclaimed film.
Source: Coming Soon