2012: How Hollywood's Archery Obsession Actually Impacted the Sport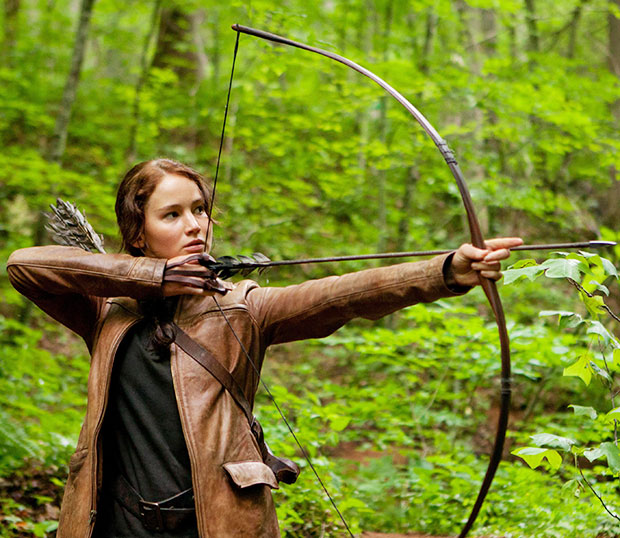 Al Lizzio has been in the archery business for 50 years, managing Queen's Archery in New York City for nearly half that time. Amazingly, he's never seen a year as successful a year for sport quite like 2012.
"The last year has been unbelievable," Lizzio says. "It's just exploded. The only word I can use to describe it."
The bow and arrow has been a staple of entertainment since the early days of cinema — what's more adventurous than Errol Flynn letting an arrow fly in 1938's Robin Hood? — but 2012 saw an upsurge in the lo-fi weapon that took the sport of archery to the front of pop culture consciousness. Starting with the tremendous success of The Hunger Games, the sport became a defining icon of the year, so much so that the effects are visible outside the theater.
According to Lizzio, Queens Archery has given 7,000 lessons since the release of The Hunger Games, a brand that's now a vital part of the range's promotion through deal sites like Groupon.com. Even more impressive is that 80% of the coupons were purchased by women. "Women are the majority of the people who are coming in now, which had never been before," Lizzio says. "Archery was always a representation of men shooting bows and arrows at war or men shooting for hunting purposes. Now we're getting a lot of women coming in realizing they can do it on a recreational level and on an equal level with men."
Butch Johnson, a five time Olympian who took home the gold medal in archery in 1996 and now runs Hall's Arrow Indoor Archery Range in Manchester, Connecticut, has also seen the ripple effect of Hollywood's obsession with archery. "Our range, and others like it, have had a terrific growth in business this year, and it's definitely due to the success of films like The Hunger Games and Brave, and shows like [CW's] Arrow," Johnson says. "Our youth and adult archery classes are completely full, with nearly 200 archers per week taking classes with us."
Denise Parker, an Olympic bronze medalist and CEO of USA Archery, an organization that supports U.S. Olympic and Paralympic athletes and promotes training in the sport by vetted instructors, suggests the trend is nationwide. "The attention our sport has received over the past year has literally transformed our sport from backyard to mainstream overnight," Parker says. "Keeping up with the demand is really our focus now." And the demand is apparent: in 2012, USA Archery saw a huge increase in participation of their National Target Championships, rising from 171 youths in 2001 to 357 youths in 2012. Individual membership to their to organization has also grown to 5,522 members — a 25% since December 2011.
Adding to the momentum of archery in the media was the Summer Olympics in London, where the sport captured eager audiences viewing from home. In August, NBC announced that archery was their most viewed sport on cable, with an average of 1.5 million viewers per airing. The total eclipsed popular sports like basketball.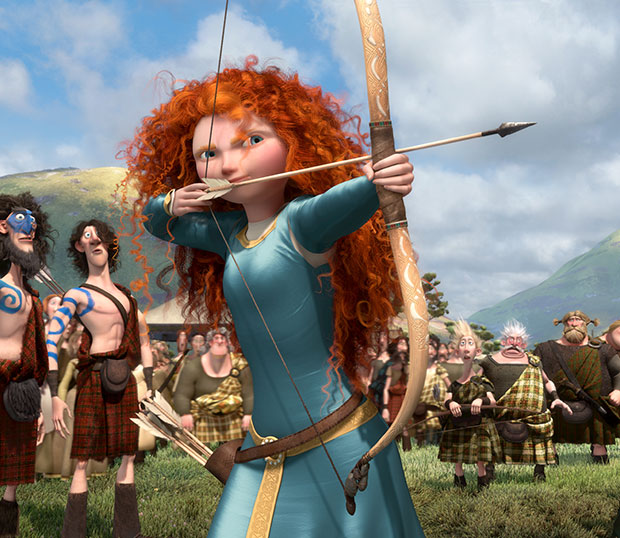 The sudden emergence of the bow and arrow in pop culture has positively invigorated fans to pick it up in real life, but the trained archers hope that newfound interest pushes Hollywood to better represent the sport in the future. "Brave obviously benefited from technical advice that made archery look excellent and authentic in that movie, but other films and television shows would strongly benefit from receiving technical advice from an archer," Johnson says. Archery is not a one-bow-fits-all sport — Johnson notes that if an archer in a film uses a compound bow, he should work with a compound archer. If they shoot instinctively (without sights), work with an archer who understands instinctive shooting. Simple.
While The Avengers' Hawkeye may have been deemed an awful archer by the sports standards and Oliver Queen's form barely registers during action scenes on Arrow, the dreams of professional archers are seeping into Hollywood productions. Last year, four-time Olympian Khatuna Lorig was hired to beef up Jennifer Lawrence's archery skills in The Hunger Games. She consulted on making the action more realistic, a far cry from fantasy and sci-fi of the past. The Georgia-born archer has a particular gripe with Lord of the Rings. "[You] can't shoot with two arrows and like that." So 2012 wasn't just about archery, it was about realistic archery.
Lizzio welcomes the enthusiasm spurred by pop culture that now surrounds his sport, but he believes there's a reason filmmakers and fans have gravitated towards the bow and arrow in the first place. "The movies spurred an interest, but the interest was there to begin with," Lizzio says. "I believe we all have an interest in archery in us. It's basic to the human nature. It's been my belief that everyone on the planet knows archery in some shape or form. It's just that they don't know where to experience it."
For those interested in hitting the bullseye like Katniss, Princess Merida, Hawkeye, and Arrow, check out USA Archery's official site.
Follow Matt Patches on Twitter @misterpatches
[Photo Credit: Lionsgate; Walt Disney Pictures]
More:
Jennifer Lawrence's Hunger Games Archery Coach Says the Actress is Olympics Ready
2012: Remembering the Year that Was in Pop Culture Via Our Favorite Stories
Brave and the Princess Problem: Two Steps Forward, One Step Back

Jennifer Lawrence Bikinis in Hawaii: Her 15 Sexiest Pics

Cory and Topanga Are In! Big 'Boy Meets World' Spinoff News