2014 Golden Globe Nominees: Biggest Upsets, Surprises, and Head-Scratchers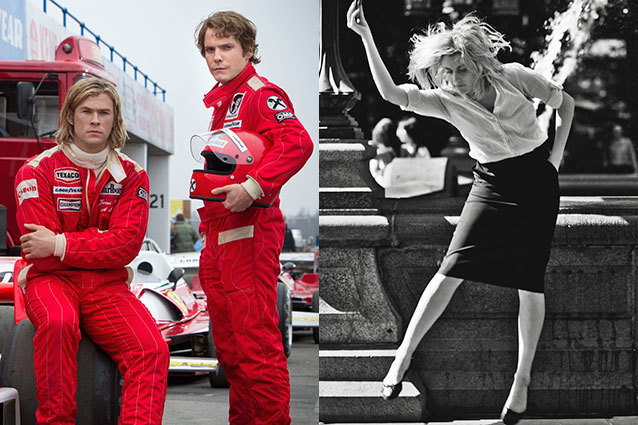 Universal / IFC Films
It wouldn't be award season without a handful of upsets, pleasant surprises, and "whaaaaat?"s, and the Golden Globes aren't about to start letting us down this year. The nominations for the 2014 Awards were announced Thursday morning, causing a bunch of "huh?"s and "hmm…"s to fly around.
Here are the nominations that made us scratch our heads and shout out a few "woo!"s:
Whaaaaaaaat??
Best Motion Picture, Drama: Lee Daniels' The Butler Got Nothing
This film was tailor-made for award season, and it didn't even make the list once. We're not saying it should be on the list, just that we're surprised that it's not… and that Forest Whitaker is nowhere to be seen.
Best Motion Picture, Drama: Rush
Separating the best motion picture category into dramas and comedies/musicals leaves room for movies to sneak their way in, but even with that said, we're definitely surprised to see Rush on the list. Sure, the film got good reviews, but there definitely hasn't been a big push for it to get any award attention. But who even cares who else is on the list when 12 Years a Slave or Gravity is going to take home the trophy.
Woo-hoo!!
Best Actress in a Motion Picture, Musical or Comedy: Greta Gerwig, Frances Ha
This is unbiasedly the best surprise on the list. Greta Gerwig's performance in Frances Ha is incredibly earnest, honest, and laugh-out-loud funny, and we're glad she's getting credit where credit is due. Plus, we just love her dance moves.
Best Actress in a TV Series, Drama: Tatiana Maslany, Orphan Black
Okay, so this news might be even better than Greta Gerwig getting a nod for best actress in a comedy. Maslany was completely robbed at the Emmys for her role(s) in Orphan Black (she didn't even get a nomination!), and we're so happy that she's finally getting the recognition she deserves.
Best Supporting Actor in a Series, Mini-Series or TV Movie: Corey Stoll, House of Cards
We're definitely pleasantly surprised that Stoll got a shout out for his role in House of Cards. Sometimes it's hard to remember that there are more actors in the Netflix show than just Kevin Spacey, so we're glad someone else is getting a little attention.
Huh?
Best Actor in a Motion Picture, Drama: Idris Elba, Mandela: Long Walk to Freedom 
We love Idris Elba. We really do. But we're still surprised he made the list. We want to say that we're pleasantly surprised, but there's just too many great leading actors in this year's pool of contenders to let our love for Elba blind us from everyone else's performances. His portrayal of the late Nelson Mandela is strong, but it doesn't standout from those in other Mandela-inspired films.
Best Supporting Actor in a Motion Picture: Daniel Bruhl, Rush
For this category, we're not surprised that Bruhl made the list, but rather that Rush made the list yet again. Someone over at the Golden Globes must seriously have a thing for the race car flick.
Best TV Series, Comedy: Brooklyn Nine-Nine
Truth be told, Brooklyn Nine-Nine is a pretty funny show. It's got a great cast — Terry Crews, Chelsea Peretti, and Andre Braugher know how to make people laugh — and some solid writing, but it's such a new show and has so much left to prove that we're surprised it caught the eye of award season so early on. (And enough with The Big Bang Theory and Modern Family already. We get it. Award season really loves them.)
Best Actor in a TV Series, Drama: James Spader, The Blacklist and Liev Schreiber, Ray Donovan
We're surprised that James Spader is getting so much praise so early on for The Blacklist, and we love Liev Schreiber, but has anyone ever talked about Ray Donovan… ever? 
Best Animated Feature Film: Monsters University Didn't Get a Nod
Given that only three animated films were nominated (The Croods, Frozen, Despicable Me 2), we're surprised that Monsters University wasn't added to the list. It might not be strong enough to beat out Frozen, but it has to be just as bad/good as The Croods.
Ugh.
Best TV Series, Drama: Downton Abbey and The Good Wife
Ugh. How boring. Downton Abbey and The Good Wife always seem to make the drama list, and we're ready for something new. We're glad that House of Cards and Master of Sex made the cut, but what about Orphan Black, The Americans, or Game of Thrones? But we guess it doesn't matter anyways; we all know Breaking Bad has the best chance of winning.
Best Actor in a TV Series, Comedy: Michael J. Fox, The Michael J. Fox
Okay, so we're not actually surprised by this at all. Of course the Golden Globes would give a shout out to Fox, but come on, neither the show or his performance deserves a nod this time around. We just don't think he should be on the list.