'2016 Obama's America' Box Office Surprise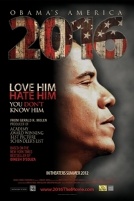 Labor Day weekend marks the end of the summer movie season — but the big box office news doesn't surround a major studio blockbuster, but rather a conservative political documentary.
The surprising performance of 2016: Obama's America has become the most talked-about box office story of the late summer, giving major studio movies a run for their money and competing in the thick of the box office fight. And, shockingly, the film has managed to steal headlines, despite playing in anywhere from a half to a third as many theaters as its rivals. In fact, over the weekend of Aug. 24, when it expanded from 169 to 1,091 theaters, the film beat newcomers Premium Rush, starring Joseph Gordon-Levitt and Hit and Run, starring Bradley Cooper, by landing in 7th place with $6.5 million and posting the highest per-theater average of any film in the Top 20. Almost more impressive was its performance a week before: During the weekend of Aug. 17 the film managed to come in 13th in a field of 86 films that weekend with $1.244 million in just 169 theaters.
The mid-week numbers have been equally impressive, with a $1.2 million second place finish on Monday behind only The Expendables 2, a Tuesday fourth-place finish of $1.01 million behind The Expendables 2, The Bourne Legacy, and ParaNorman, and a third-place Wednesday finish of $810,000 behind the number one Wednesday debut of Weinstein Co.'s Lawless with $1.14 million and The Expendables 2 with $1.045 million.
Through Wednesday, 2016: Obama's America has earned almost $12.4 million in North American receipts and will expand to nearly 1,800 theaters on Friday when Lionsgate's horror entry The Possession will open in about 2,700 theaters. This should be a very interesting weekend indeed, since the typically slow end of summer Labor Day holiday may provide the opportunity for the documentary to crack the Top 3 in a field loaded with hold-overs and a host of newcomers including the aforementioned Lawless, the Oogieloves movie, and The Possession.
More:
Why 2016: Obama's America Is a Conservative Fahrenheit 9/11
2016: Obama's America: The Film's Most Controversial Moments