'21 and Over': Even Miles Teller and Justin Chon Are Surprised at How Naked They Get — VIDEO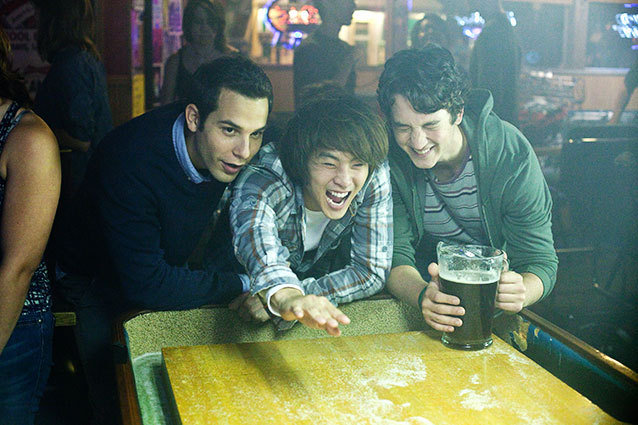 Remember that magical night of alcohol-induced wonder that was your 21st birthday? The drinks were strong, the bouncers were understanding, and the conversations were tinged with the hazy headache that only neon signs and excessively loud music can create. Get ready to relive that night all over again when 21 and Over hits theaters on March 1.
From the writers of The Hangover, the comedy follows a night of debauchery as high school friends Casey (Skylar Astin) and Miller (Miles Teller) take their buddy Jeff Chang (Justin Chon) out to celebrate his 21st birthday. Here's the problem: Jeff Chang has the most important interview of his life the next morning and when their night takes a turn for the worse, the three friends find themselves on a quest so crazy it makes Las Vegas look tame.
RELATED: Watch the Debaucherous '21 and Over' Trailer
Hollywood.com sat down with two of the hilarious leading men — Miles Teller and Justin Chon— to discuss one of the film's most prevalent themes: nudity. 
The actors revealed they were surprised to see exactly how many birthday suits made it ino the film. "Honestly we're naked a lot more in this final cut, in what you see, than I thought," Teller says with a laugh. "I went with my best friend and he was watching it and after a while he was like, 'Dude, are you serious?'"
Although there are a lot of "full moon" scenes, audiences should not be deterred because the actors' private parts are securely covered with two Very classy and unique items. Teller's character is forced to don a tube sock after a terrifyingly hilarious sorority ceremony, while Chon's on-screen alter-ego opts for a more fashionable choice: a teddy bear.
RELATED: '21 And Over': Overdoing It, That Is! — Trailer
While a large part of the film is devoted to showing off their assets, the guys had a short (yet awesomely epic) scene in which they teamed up to play an ultimate game of beer pong. So of course, we had to ask: Who would be their ideal celebrity beer pong partner?
Teller is quick with his pick: "I would choose John Stamos because John Stamos can do everything. Come on, it's Uncle Jesse!" Chon is a bit more thoughtful about his teammate before settling an a interesting choice: Liam Neeson. "He would be so freaking serious about it," Chon explains.
Check out our full interview with the actors below to find out more about their "liberating" naked scenes and their idea of the perfect alcoholic drink.
You can catch 21 and Over when it hits theaters Friday, March 1.
Follow Leanne on Twitter @LeanneAguilera
[Photo Credit: Relativity Media]
---
From Our Partners:


40 Most Revealing See-Through Red Carpet Looks (Vh1)


33 Child Stars: Where Are They Now? (Celebuzz)