'21 and Over': Skylar Astin and Sarah Wright Reveal Their Most Embarrassing Bar Flirtations — VIDEO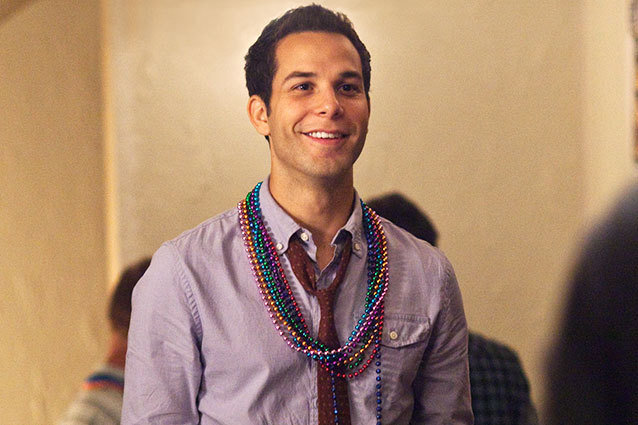 Remember that magical night of alcohol-induced wonder that was your 21st birthday? The drinks were strong, the bouncers were understanding, and the conversations were tinged with the hazy headache that only neon signs and excessively loud music can create. Get ready to relive that night all over again when 21 and Over hits theaters on March 1.
From the writers of The Hangover, the comedy follows a night of debauchery as high school friends Casey (Skylar Astin) and Miller (Miles Teller) take their buddy Jeff Chang (Justin Chon) out to celebrate his 21st birthday. Here's the problem: Jeff Chang has the most important interview of his life the next morning and when their night takes a turn for the worse, the three friends find themselves on a quest so crazy it makes Las Vegas look tame.
RELATED: '21 And Over': Even Miles Teller And Justin Chon Are Surprised At How Naked They Get — Video
Hollywood.com sat down with two of the hilarious stars — Skylar Astin and Nicole Wright — and after a quick serenade by Astin's Pitch Perfect pipes, we discussed one of life inevitabilities: awkward bar flirtations.
While Astin claims that he hardly lets the rosy cheeks of embarrassment get to him, Wright reveals a truly toe-curling moment that any girl can relate to. "There was a guy that I thought was so cute and so sweet and we were all about to work together,' Wright explains. "There was another girl and she was new to town and he was like, 'Hey you know we should get together, I'll give you my number and we can all get to know each other.'" Unfortunately, Wright was under the impression that the unnamed fella was hitting on her. Needless to say the moment was uncomfortable and a half for all those involved.
RELATED: '21 And Over': Overdoing It, That Is! — Trailer
Check out our full interview with the stars below to find out how Wright recovered from her embarrassing moment, and learn the identity of their ideal celebrity beer pong partner. Spoiler Alert: One of them is Gary Busey!
Follow Leanne on Twitter @LeanneAguilera
[Photo Credit: John Johnson/Relativity Media]
---
From Our Partners:


40 Most Revealing See-Through Red Carpet Looks (Vh1)


33 Child Stars: Where Are They Now? (Celebuzz)
You can catch 21 and Over in a theater near you!
Follow Leanne on Twitter @LeanneAguilera
[Photo Credit: Relativity Media]
---
From Our Partners:


40 Most Revealing See-Through Red Carpet Looks (Vh1)


33 Child Stars: Where Are They Now? (Celebuzz)