'21 Jump Street' Tops the Weekend!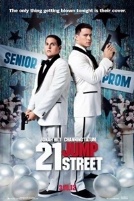 Sony posts its third number one debut of 2012 (after "Underworld: Awakening" and "The Vow") this weekend with the R-rated action comedy "21 Jump Street" and its bigger than expected $35 million Friday through Sunday total. This was the biggest opening weekend for a non-summer, non-sequel R-rated comedy. Starring Oscar-nominee Jonah Hill and heartthrob and "The Vow" star Channing Tatum, the film gets its title from the late-80's TV show that starred Johnny Depp but is re-imagined as a comedy about young cops sent undercover in a high school to bust a drug ring.
"Dr. Seuss' The Lorax," continues its incredible run and enters its third weekend adding another $22.8 million to its environmentally-friendly bank account. The Universal Pictures release continues to be the top choice for families and in the wake of another string of impressive mid-week grosses and winds up with about $158.4 million in domestic revenue by Sunday night.
Disney's mega-budget action adventure "John Carter" met some resistance in a tough domestic marketplace taking in just $30.2 million last weekend, but luckily grabbed an impressive $70.6 million in international revenues to make up the difference. The film earned $13.5 million in North America this weekend bringing its 10-day total to $53.2 million and its worldwide total to $179.3 million.
Warner Bros.' R-rated comedy "Project X" from producer Todd Phillips in its third weekend added another $4 million to its party fund. The modestly-budgeted (a reported $12 million) story of high school kids trying to build their reputations as the ultimate party hosts profitably nears the $50 million mark this weekend.
Eddie Murphy in Paramount's "A Thousand Words" held up pretty well this weekend dropping just 39% in its second weekend and taking the fifth spot with $3.75 million and a 10-day total of $12.1 million.
Just outside of the top five, Relativity Media's "Act of Valor" blasted its way to around $3.7 million and crosses the $60 million in its fourth weekend of release.. The R-rated action drama featuring real Navy SEALs has had a strong run in theaters since its debut about a month ago.
The first "down" weekend of the year as we await the box office frenzy that will accompany Lionsgate's "The Hunger Games" later this week. Trust us when we say box office will be way up next weekend!
Weekend Box Office (Estimates)
Top Movies for Weekend of March 16, 2012
Movie Weekend Gross Total to Date
1 21 Jump Street (R) $35.0M $35.0M
2 Dr. Seuss' The Lorax (PG) $22.8M $158.4M
3 John Carter (PG13) $13.5M $53.2M
4 Project X (R) $4.0M $48.1M
5 A Thousand Words (PG13) $3.75M $12.1M