Channing Tatum and Jonah Hill on the Bizarre Comedy in '22 Jump Street'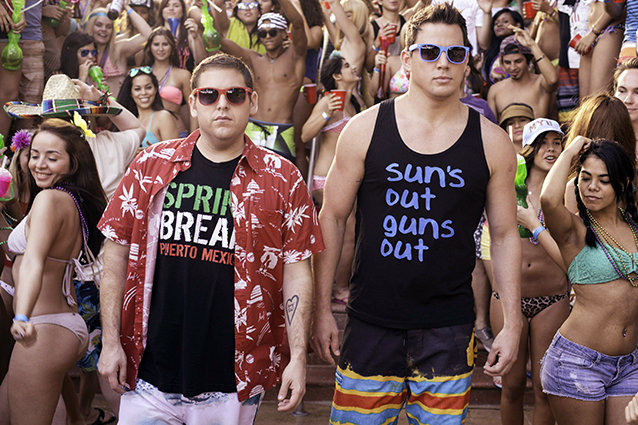 Sony Pictures via Everett Collection
What does it take to be funny? After delivering some hilarious drug-busting hi-jinks in the delightfully subversive 21 Jump Street, officers Jenko and Schmidt have graduated high school and are making the big move to college in the sequel. But is the joke still funny in 22 Jump Street? We sat down with Channing Tatum and Jonah Hill to talk about making room for improvisation in the finely tuned world of Chris Miller and Phil Lord, the development of some of the film's most memorable jokes, and Tatum's uncertainty in transforming from a pretty slab of beef to a genuinely gifted comedic actor.
Warning: This interview mentions specific jokes contained in the film. 
There might not be as much off the cuff material in the film as you'd think:
Channing Tatum: "[Lord, Miller, and Hill] are great writers, so it's not like we just walk in and start improving. There's really, really, really witty and great writing. It's not just jokes, there's actually some really good character and relationship stuff between Jonah and I and some of the other characters. They write and then we do what's on the page, and we do that a bunch of times until we feel that we've got it. And then it's like, teacher blows the whistle and it's recess time on set."
And it was tough for Tatum to adapt to the comedy game:
Tatum: "I was like, 'Man, I don't know if I can do this comedy stuff.' The way you do it is different than other movies, sometimes. You'll just take a run at a line and do it a bunch of different ways. Sometimes you'll just take a minute and be like, 'All right, let's see if we can make sure we have this line.' That's not generally what you do in drama. That was weird and you don't have this overwhelming feeling that it's working, ever. I think people are laughing at times, but I'm not sure it's going to all come together and just because it was a form that I didn't understand all that well."
"I had to learn how to let go on the first one, and just leave it up to the gods, or Chris and Phil. I had no ego going into it, and generally don't on any movie, really, because the best idea in the room wins. You just gotta step up to the plate and swing as hard as you can and try to keep growing and try to keep on taking parts that challenge you in movies that aren't some derivative version of another movie that you've done … You do want to push yourself, and if you keep doing that, you will keep getting better and you will keep doing better work. When I asked [Hill], I was like, 'Look, man, I just don't know how to be funny. I just don't know how to do that. I don't see myself as that.' and he's just like, 'Look, I just want you to be a good actor, and come in and don't try to be funny. Let me worry about knowing what's going to be funny in the scene.' And I really did. I left it up to him. Chris and Phil were great. And we just started trudging down the field and tried to make a good movie."
Tatum and Hill discuss some of their favorite gags from the film, including the made up land of "Puerto Mexico"…
Jonah Hill: "Puerto Mexico [is] a perfect example of a Phil Lord and Chris Miller Joke. Where you just read that and are like "I have no idea what that means, but you guys, I totally trust you guys."
Tatum: "It's truly funny to them. They think it's the funniest thing in the world and I can see someone else making that joke and it not working out in the movie somehow, and for some reason, they just make it work."
…and mixing up carte blanche with Cate Blanchett…
Tatum: "I think that was [Jonah's] joke."
Hill: "No, that might have been Rodney Rothman. He's a great writer and a friend of ours. He's one of the writers on the film. He's been a friend of mine for years and years, and he's been a friend of Phil and Chris' for years and years. So when we were writing this one, we were like, let's have Rodney write with us so we can soak up his genius. That joke is funny. I think that's my favorite joke in the movie."
Tatum: "We tried to actually get her, I think … She was busy."
Hill: "Yeah, for some reason, [laughs] she didn't want to be in the movie … Turns out we didn't have carte blanche."
22 Jump Street hits theaters on Friday, June 13.