Does the '22 Jump Street' Trailer Live Up to Expectations?
When the world learned of the existance of a 21 Jump Street film reboot, the response was decidedly negative, and rightfully so. Reboots of '80s TV shows are hardly ever successful, or even watchable, which is why we were all surprised when the Jump Street reboot was actually a pretty enjoyable romp. A film that didn't just clear the low bar of expectations collectively set by everyone with sense, but vaulted over with confidence. Now that the sequel has come around, how excited are we for the prospect of another film? Part of the charm of 21 Jump Street was the fact that it should have been terrible. A purely nonsensical reboot based on an '80s TV show that was quickly slipping through the seams of public consciousness had no chance of being good, but somehow, almost against the laws of science and nature, the film turned out to be surprisingly fun. But was it really that good, or were we just relieved it wasn't awful? Expectation is a powerful thing, and Jump Street was certainly graded on a curve as a result. Now, the sequel 22 Jump Street actually has certain expectations to meet.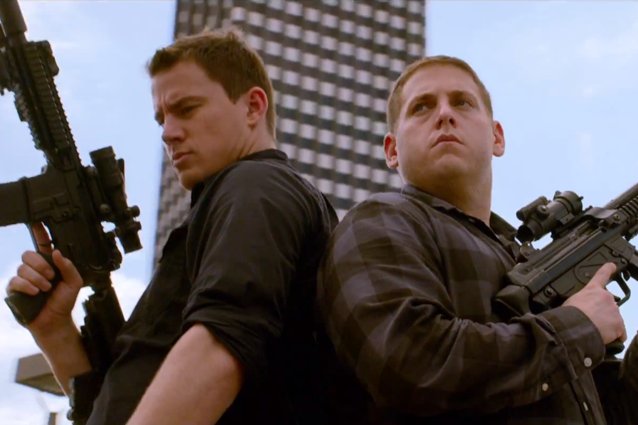 Sony Pictures/YouTube
Judging from the latest green brand trailer, we think this film might have the goods. While this green band trailer lacks the raunch and saucy language of the red band one, it's still pretty darn entertaining. Nick Offerman lays on the film's meta premise in thick coats, as he explains the improbable circumstances that brought the Jump Street program to their latest case, and a sequel to the first film to theaters. Naturally, fake high schoolers/police detectives Jenko (Channing Tatum) and Schmidt (Jonah Hil) have graduated to college. Since thirty-somethings attending college does actually happens in real life, this isn't nearly as absurd of a presence as the original. Once again, the duo is investigating a drug ring inside of a school, but now all of the jokes spoofing high school cliches have been upgraded with more collegiate ones. That means frat parties! Dorm room decorating! Lecture halls! It's all there like you remember… or sort of remember, it's kind of hazy. Plus, we're treated to copious amounts of bullets being fired into the air, Ice Cube unknowingly using sexual innuendo, and your usual slew of pop culture gags. All pretty funny stuff.
There's also the added fact that the film's writers, Phil Lord and Chris Miller, also wrote The Lego Movie, a hilariously original feat that was far better than expected. It seems like these guys have a knack for surpassing expectations, and hopefully 22 Jump Street makes us a believer once again.