var NREUMQ=NREUMQ||[];NREUMQ.push(["mark","firstbyte",new Date().getTime()]); of dead things. But a corrupt superior, Dr. Carl Hill (David Gale), assumes control of West's experiments and winds up, by ghastly necessity, using the stuff on his own severed head and body. West and in-over-his-head co-worker Dan Cain (Bruce Abbott) struggle to control the now out-of-control effects of the serum, but the bone-saws an">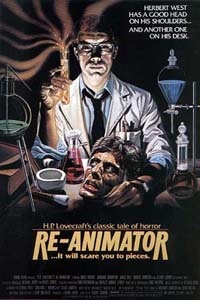 | | |
| --- | --- |
| Type | Feature Film |
| MPAA Rating | R |
| Runtime | 1hr 24mins. |
| Genres | Horror, Sci-Fi |
| Status | N/A |
| US Release Date | 10/18/1985 |
April 23, 2013 3:13pm GMT+0000

The Playstation franchise 'Ratchet & Clank' will get a feature film adaptation.

September 14, 2012 1:59pm GMT+0000

Zombies, guns, blah blah blah.

August 17, 2012 12:38pm GMT+0000

A stop-motion, zombie adventure that scares up screams, laughs, and even a bit of emotion.

June 27, 2012 4:02pm GMT+0000

A rebooted comic book movie that feels more like a rehash.

May 30, 2012 4:11pm GMT+0000

If Snow White's tale is a shiny red apple, then modern tropes of fantasy are the poison.

May 11, 2012 12:37pm GMT+0000

Johnny Depp sinks his teeth into the campy TV adaptation, but can't bring it back to life.

April 27, 2012 10:55am GMT+0000

A treasure for animation buffs, comedy lovers and anyone game for a high seas adventure.

April 10, 2012 12:46pm GMT+0000

An imaginative horror comedy is much, much more than meets the eye.

March 09, 2012 11:14am GMT+0000

The Lorax speaks for the trees; Zac Efron speaks for the vital 12-to-18-year-old demographic.

March 06, 2012 5:51pm GMT+0000

A rousing, imaginative sci-fi adventure that shoots for the mars...and almost gets there.
Synopsis
Herbert West (Jeffrey Combs) is a brilliant medical student who has perfected a green-glowing serum for regenerating life into dead things -- or even <i>parts</i> of dead things. But a corrupt superior, Dr. Carl Hill (David Gale), assumes control of West's experiments and winds up, by ghastly necessity, using the stuff on his own severed head and body. West and in-over-his-head co-worker Dan Cain (Bruce Abbott) struggle to control the now out-of-control effects of the serum, but the bone-saws and zombies complicate their plans.

~ Buzz McClain, All Movie Guide