var NREUMQ=NREUMQ||[];NREUMQ.push(["mark","firstbyte",new Date().getTime()]);
~ Matthew Tobey, All M">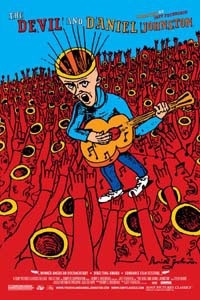 | | |
| --- | --- |
| Type | Feature Film |
| MPAA Rating | PG 13 |
| Runtime | 1hr 49mins. |
| Genres | Documentary, Music |
| Status | N/A |
| US Release Date | 03/31/2006 |
December 04, 2013 10:51pm GMT+0000

Oscar Isaac gives a special, grounded performance in the Coen Brothers' magical folk singing New York City in 'Inside Llewyn Davis'

November 25, 2013 6:27pm GMT+0000

Lana Del Rey and Mac Miller have each donated $10,000 (£6,700) to fund a short film, starring rocker Daniel Johnston.

June 30, 2006 11:07am GMT+0000

If The Devil Wears Prada didn't have the silently menacing Meryl Streep as its title character, the film would be sporting nubs and carrying a broom instead of full-blown horns and a pitch fork.

November 16, 2005 10:24am GMT+0000

The Academy of Motion Picture Arts and Sciences officially narrowed at least one category down, selecting the 15 documentaries that will be further shortened to five final nominations in the Best Documentary Feature category.

January 31, 2005 12:13pm GMT+0000

The Rip Torn movie Forty Shades of Blue was the big winner at this year's Sundance Film Festival as the annual independent exhibition wrapped up on Saturday night.
Synopsis
A decade after wowing critics with his debut feature Half Japanese: The Band That Would Be King, director Jeff Feuerzeig finally delivered his sophomore effort -- a documentary about the life and music of singer/songwriter Daniel Johnston. Using archived film clips and recordings with newly shot footage and interviews, the film paints a detailed and honest picture of the tortured genius. The Devil and Daniel Johnston premiered at the 2005 Sundance Film Festival.

~ Matthew Tobey, All Movie Guide