3 Reasons 'The Hip-Hop Fellow' Is One of the Most Important Documentaries Of 2014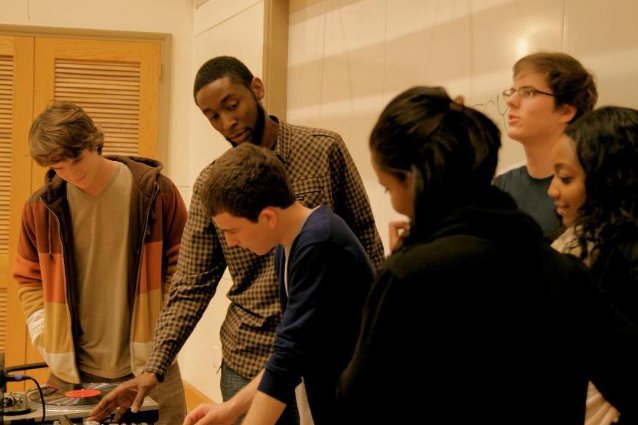 The Hiphop Fellow/Facebook
A good documentary can change a person, and a great documentary can change the world. If you've ever wondered why your college isn't offering a course on hip-hop, it's probably because they haven't seen the work going down at Harvard University's Hip-Hop Archives, and they haven't yet seen Kenneth Price's powerful new doc, The Hip-Hop Fellow. Right now Harvard students are getting the chance to study with 9th Wonder, a Grammy Award-winning producer who worked with everyone from Jay Z to Mary J. Blige, and then went on to become one of the first truly hip-hop hip-hop professors. Price's film follows 9th Wonder (and includes interviews with Young Guru, Kendrick Lamar, Ab-Soul, and DJ Premier) as he teaches his Standards of Hip-Hop course and works on his own thesis project. The documentary has started making its way around the festival circuit, and you're going to want to catch it when it comes to a town near you. Here are just a few reasons The Hip-Hop Fellow is one of the best documentaries so far this year.
1. The Honesty and Intelligence of Professor 9th Wonder 
For those of us not attending Harvard right now, The Hip-Hop Fellow allows us to experience the genius that is 9th Wonder. As the tenured professor takes us through the complex and exciting history of rap music (which is also a history of many other musical genres), we get a taste of what it would be like to learn from one of the greats.
2. Hip-Hop Gets Recognized as High Theory
With expert analysis from 9thWonder and other well-respected rap producers, as well as theorists at Harvard, this documentary brilliantly puts an end to the question of whether or not hip-hop — specifically sampling in hip-hop — can be understood as an art form. If you understand "sampling" as "stealing," or as a lazy way to make music, prepare to be schooled. 
3. Because Henry Louis Gates Jr. Says So

In terms of literary and cultural theory in America, Harvard University's Henry Louis Gates Jr. is pretty much at the top of the pyramid. As he waxes poetic on the true genius behind many hip-hop productions, it becomes clear that this movement which seeks to link rap music to academia is both hugely important and incredibly exciting.
Follow @Hollywood_com Follow @shannonmhouston