var NREUMQ=NREUMQ||[];NREUMQ.push(["mark","firstbyte",new Date().getTime()]);
~Jeremy Wheeler, Rovi">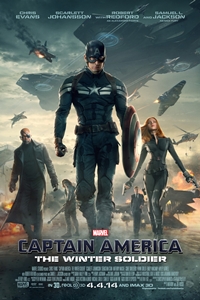 | | |
| --- | --- |
| Type | Feature Film |
| MPAA Rating | N/A |
| Runtime | N/A |
| Genres | Adaptation, Adventure, Sequel, Action |
| Status | N/A |
| US Release Date | 04/04/2014 |
November 08, 2013 3:47pm GMT+0000

The sequel ups the ante on the cleverness, adventure, and humor, but still leaves us with a hero we can't get attached to.

November 07, 2013 5:33pm GMT+0000

Ms. Marvel centers around Kamala Khan, a Muslim girl from Jersey City.

October 25, 2013 4:22pm GMT+0000

Are they revealing too much?

October 24, 2013 6:19pm GMT+0000

Times have changed, and Captain America needs to as well.

October 01, 2013 5:48pm GMT+0000

The government has its hands in a lot of upcoming stories...

September 10, 2013 4:26pm GMT+0000

West Virginia saw a real life DC/Marvel crossover when Batman and Captain America saved a cat from a burning building.

August 29, 2013 8:39pm GMT+0000

These strong women need to own the screen.

August 02, 2013 2:03pm GMT+0000

Before reprising his role as Captain America in 'Avengers 2', Chris Evans will make his directorial debut with '1:30 Train'.

July 17, 2013 9:30pm GMT+0000

Hollywood.com's Christian Blauvelt and TheForce.Net's Eric Geller talk about what to expect from this year's San Diego Comic-Con, from Marvel to 'Star Wars'

July 09, 2013 9:29pm GMT+0000

The action star has been tweeting from the set of his new movie.
Synopsis
Steve Rogers continues his journey as the super-powered American soldier who's grasping to find his place in a modern world after being frozen in ice since WWII with this Marvel Studios sequel. Chris Evans returns to star, with Community director/producers Joe and Anthony Russo helming.

~Jeremy Wheeler, Rovi