var NREUMQ=NREUMQ||[];NREUMQ.push(["mark","firstbyte",new Date().getTime()]);
~ Michael Hastings, All Movie Guide">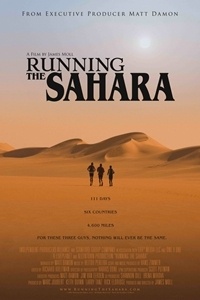 | | |
| --- | --- |
| Type | Feature Film |
| MPAA Rating | N/A |
| Runtime | 1hr 42mins. |
| Genres | Documentary |
| Status | N/A |
| US Release Date | N/A |
October 22, 2012 4:42pm GMT+0000

Tune in and find out.

October 05, 2012 9:00am GMT+0000

Zac Efron struggled to keep up with movie brother Matthew Mcconaughey during pre-film character-building runs and quickly discovered the Sahara star is perhaps the fittest man in Hollywood.

April 24, 2006 9:14am GMT+0000

Moviegoers made their voices heard this weekend. Grossing $20.2 million at the North American box office in its debut weekend, the video game-turned-movie fright flick Silent Hill took the top spot away from reigning champ, the horror spoof Scary Movie 4, which slipped to second place with $17 million.
Synopsis
Three men attempt to do the unthinkable -- traverse the Sahara desert by means of running -- in this documentary chronicling a journey begun in November 2006. As they interact with the cultures and people of Africa, the runners promote H2O Africa, a charity that strives to promote clean drinking water for the impoverished areas on the tour.

~ Michael Hastings, All Movie Guide