var NREUMQ=NREUMQ||[];NREUMQ.push(["mark","firstbyte",new Date().getTime()]); series with this scaled-back look at the zombie apocalypse as told from the perspective of a student filmmaker who sets out to shoot a low-budget fright film, but instead captures the breakdown of modern society at the decaying hands of flesh-eating ghouls. Jason Creed (Joshua Close) and his crew are shooting a mummy movie in the Pennsylvania woods when media reports begin pouring in about the ">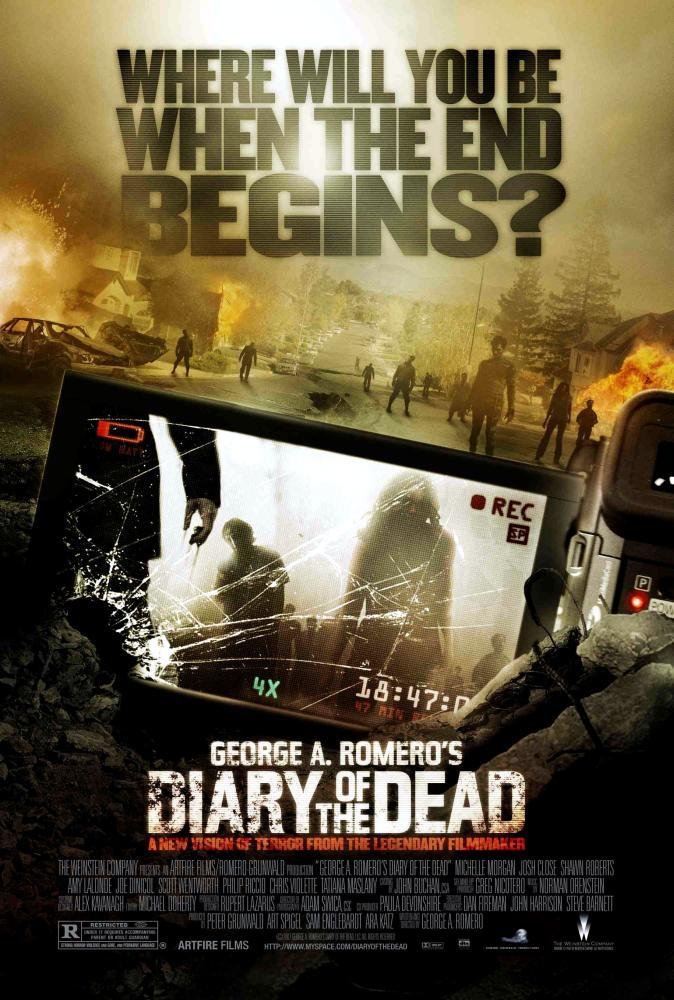 | | |
| --- | --- |
| Type | Feature Film |
| MPAA Rating | R |
| Runtime | 1hr 35mins. |
| Genres | Horror |
| Status | N/A |
| US Release Date | 02/15/2008 |
February 18, 2008 1:13pm GMT+0000

<em>Jumper</em>, a sci-fi thriller about a young man who can teleport, starring Hayden Christensen and Samuel L. Jackson, leaped to the top of the North American box office this President's Day weekend with a four-day total of $31.7 million.

February 15, 2008 3:43pm GMT+0000

<em>Diary of the Dead</em>&nbsp;is a midnight zombie flick shot through a&nbsp;<em>Cloverfield</em> and <em>Blair Witch Project</em> kaleidoscope, an ultimate&nbsp;indictment of modern, personality-driven media--and its meaninglessness dumped on consumers every single day.
Synopsis
Jason Creed and a small crew of college filmmakers are in the Pennsylvania woods making a no-budget horror film when they hear the terrifying news that the dead have started returning to life. Led by Jason's girlfriend, Debra, the frightened young filmmakers set off in a friend's old Winnebago to try to get back to the only safety and security they know: their homes. But there is no escape from the crisis, nor any real home for them anymore. Everything they depend upon, all that they hold dear, is fractured as the plague of the living dead begins to spread. Jason documents the true-life horrors in a tense, first-person style that heightens the reality of each encounter. Even as his friends die, even as they are attacked by ravenous walking corpses at every stop along the way, Jason keeps filming, an obsessive, unflinching eye in the midst of chaos. The government first denies, then promises to quell the crisis, but can't. Technology fails. Communication with the rest of the world becomes impossible. Jason and what remains of his crew end up on their own, a handful of lucky survivors, reliant on no one but themselves to stay alive. They take final refuge in a fortress of a mansion, but their sanctuary turns out to be a trap from which there is no escape. Throughout it all, the cameras keep rolling, recording every detail for future generations--if any survive.