var NREUMQ=NREUMQ||[];NREUMQ.push(["mark","firstbyte",new Date().getTime()]);
~ Jason Buchanan, All Movie Guide">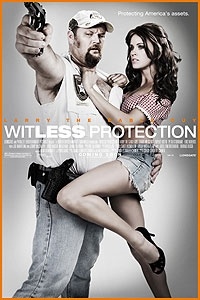 | | |
| --- | --- |
| Type | Feature Film |
| MPAA Rating | PG 13 |
| Runtime | 1hr 37mins. |
| Genres | Crime, Comedy |
| Status | N/A |
| US Release Date | 02/22/2008 |
January 21, 2009 7:09pm GMT+0000

When award season rolls around there's only one show that no one in Hollywood wants to be a part of ... the Annual Razzie Awards.

February 25, 2008 12:46pm GMT+0000

The political thriller Vantage Point opened at No. 1 at the North American box office this weekend with $24 million. The action-drama about a presidential assassination seen from the viewpoints of different characters, included a star-studded ensemble cast that featured Dennis Quaid and Matthew Fox as Secret Service agents.

February 22, 2008 9:16am GMT+0000

What should be the worst movie of the year, if not all time, is instead a reasonably passable vehicle for Larry the Cable Guy. No kidding.
Synopsis
When a small-town sheriff (Larry the Cable Guy) witnesses what he believes to be an attempted kidnapping, his effort to save the beautiful damsel in distress sets him down a wild path of comic mishap. Eric Roberts, Yaphet Kotto, Peter Stormare, and Joe Mantegna co-star in a comedy from Red Water and Christmas Rush director Charles Robert Carner.

~ Jason Buchanan, All Movie Guide