var NREUMQ=NREUMQ||[];NREUMQ.push(["mark","firstbyte",new Date().getTime()]);
~ Jason Buchanan, All Movie Guide">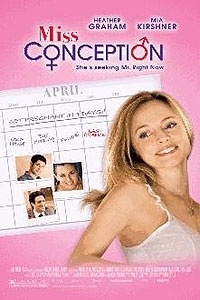 | | |
| --- | --- |
| Type | Feature Film |
| MPAA Rating | R |
| Runtime | 1hr 34mins. |
| Genres | Comedy, Romance, Romantic Comedy |
| Status | N/A |
| US Release Date | 06/06/2008 |
October 10, 2012 8:14am GMT+0000

The second part of the final season airs in March.

October 25, 2010 11:20am GMT+0000

Terry Gilliam's 1985 classic, 'Brazil', is a sort of funny '1984'.

June 06, 2008 9:27am GMT+0000

Miss Conceived would be a more appropriate title for this woefully unfunny romantic comedy in which Heather Graham dons a British accent and plays a woman desperate for a baby--and some laughs which never come.

October 05, 2007 12:03am GMT+0000

With the exception of an always stellar Ian McShane, everything in&nbsp;<em>The Seeker</em> reeks of a B-movie Harry Potter—as in "budget" version and second-rate.

December 31, 2004 12:00am GMT+0000

Ben Stiller's younger fans may miss some of the Parents shenanigans, but Meet the Fockers still provides a requisite amount of chuckles without taxing your brain too much.
Synopsis
Heather Graham, Mia Kirshner, and Tom Ellis star in director Eric Styles' romantic comedy concerning a 33-year-old woman who realizes that her longtime partner doesn't want to have children. Determined to reproduce regardless, the woman recruits her reluctant best friend to find her the right man for the job.

~ Jason Buchanan, All Movie Guide