5 Reasons To See 'The Five-Year Engagement'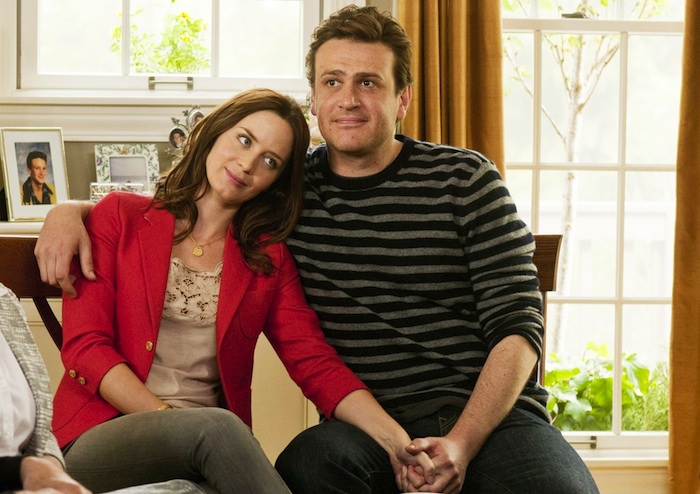 Let's make something clear: The Five-Year Engagement is not your typical boy-meets-girl, boy and girl fall in love disguised as hate, boy and girl get past their issues and have a lavish wedding kind of movie. Instead, Judd Apatow, Nick Stoller and co. wanted to show us what it's like after the fairy tale engagement. Because sometimes, what comes next isn't all red velvet cake and Gardenias. The relationship between Jason Segel's Tom and Emily Blunt's Violet is ultimately loving and respectful, but this couple hits some particularly nasty speed bumps on their way to the alter. Sound a little intense? Hollywood.com was able to screen the movie, and chat with its stars at the Four Seasons Beverly Hills the next day. And despite the film's painfully accurate depiction of modern coupledom, there are still many reasons to see the zany, true-to-life comedy. But to keep with the title, let's play with five.
1. Food Porn
At the opening of the film, both Jason Segel and Chris Pratt are up-and-coming San Francisco chefs (with varying levels of skill). From high-concept culinary creations to a simple eggs benedict, their creations will make your mouth water. Unfortunately for Segel's Tom, all of this changes when Emily Blunt's character, Violet, moves the couple to a hellish, depressing version of Ann Arbor, Michigan. Thankfully, there is an upside: Sandwich porn. Even though Tom is miserable working at the real-life local favorite Zingerman's Deli, moviegoers (especially the stoned ones) will delight in his superb sandwich creations. (Although, according to co-star Brian Posehn, Segel was actually a mess behind the counter. Those sandwich-making hands sure ain't his.)
2. Amazing Ancillary Characters
Excluding the excellently creepy scene-stealer Rhys Ifans, most of the comedic supporting staff can be seen on NBC's famous Thursday night line up. Parks and Recreation's Pratt arguably steals the movie as Tom's best friend Alex — and Segel was more than happy to hand over the head-funny-guy torch. "Part of my thing is to set everyone up to be their best," Segel said. "We want everyone to come in and nail it. Ego wise, I'm very happy to be the straight man in a movie. I played the best friend before, and the job of that role is to come in and do a huge comedy pop every scene you do. That's the job of Chris Pratt's role, and he nails it. He knocks it out of the park." Blunt agrees: "Chris Pratt is a comedy savant. He's so spooky good."
Another NBC favorite — Community's Alison Brie — holds her own as Violet's very emotional and very British sister. Brie was working on her British accent just for kicks before she was asked to audition. Apparently her hard work paid off: Apatow thought she was actually British. "I didn't know who Alison Brie was," he said. "I thought she was from England." But surprisingly, it was another "accent" that got her the job — Brie's character is a mom, and one hilarious scene finds her channeling her inner Sesame Street. "After all the work on the British accent — I know, because Nick Stoller confirmed this — it was the Elmo voice that got me the job," she said. "I did all of this work on the accent, and then I watched a YouTube video of Elmo 2 or 3 times. I'm like, 'Yeah, I got that, that's fine.' I went to the table read, and Nick runs up to me at the end of the read, super excited — 'That Elmo voice, huh? How did you do that?' I'm like — 'What about the British accent?' The Elmo just came naturally. Who knew."
The film also features The Office's Mindy Kaling and 30 Rock's Chris Parnell in supporting roles, so one visit from an Up All Night star would round up the whole gang. Apatow only has one regret: "Unfortunately Aziz [Ansari] wasn't available."
3. Passive Aggressive Facial Hair
At one point in the film, Tom hits rock bottom. How do we know this? Well, it's all in the facial hair. "I call it passive-aggressive facial hair," Segel said of the ugliest beard ever captured on film. "Defiant beard growth. It's a move that I've done in relationships, it's a move that I've done when I'm unemployed and people won't hire me. I'm like, 'Watch this, because I don't care either!' It is a form of defiance." Hollywood.com expressed their distaste of the beard, and Segel responded defiantly. "If you saw me not in a sweater, but with that beard, you would think [Tom] is right up there with [The Avengers' hunk] Chris Hemsworth."
4. A Likable Female Heroine (In an Apatow Movie??)
In many romantic comedies (including Apatow's own Knocked Up), the female leads are disappointingly shrill and utterly unlikable. Blunt's Violet is a good person with realistic and understandable motivations, putting her miles ahead of those who have gone before her. "God bless her, she needs a break," Segel said of Violet, who consistently puts up with Tom's kooky behavior. "I wouldn't have stayed with Tom. We very intentionally made sure that it didn't seem like she was the cuckolding girlfriend. We covered that ground in Sarah Marshall. It's not interesting territory for us anymore. People have a lot less leniency for women straying from a relationship. They feel like they can kind of understand why the man would leave if the woman was being nagging. But [Violet] is human. I write every part as though I might play it, whether it's a man or a woman. People are all the same, and I don't think you should treat those characters differently."
5. A Different Side of Segel
You can open your eyes, folks: There are no awkward full-frontal Segel scenes in this one. "We didn't want to see his penis jump the shark," Apatow explained.
Follow Shaunna on Twitter @HWShaunna
Image Credit: Universal Pictures
MORE:
Jason Segel Talks Dating Michelle Williams
Jason Segel and Emily Blunt Keep Not Getting Married in Five Year Engagement