'60 Minutes: James Bond' Teases 'Skyfall' and Looks Back On 50 Years of 007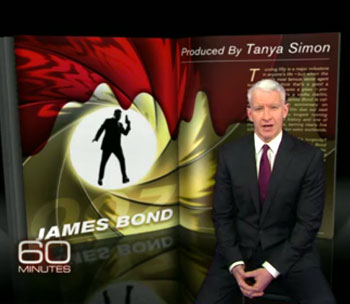 In honor of James Bond's onscreen 50th anniversary, 60 Minutes aired a special last night toasting the success of the man who coined the unconventional martini order: shaken, not stirred.
Hosted by Anderson Cooper and produced by Tanya Simon, the interview between James Bond producers Barbara Broccoli and Michael Wilson and the man playing the most recent portrayal of Bond, Daniel Craig, revealed some eye-opening facts and teases about the film franchise in anticipation of the 23rd Bond film, Skyfall, due in theaters on November 9.
In case you missed this TV event, we highlighted some important sound bites from the broadcast that you should check out before seeing Skyfall
The Bond franchise Is a family affair
In 1962, a small-time producer named Albert 'Cubby' Broccoli made the first Bond film. He went on to produce 15 more before he died, passing control to his daughter Barbara Broccoli and stepson Michael Wilson. They oversee every aspect of every film.
How Craig feels about playing Bond
"I get a huge thrill out of it like a schoolboy thrill, you know," Craig said. "That is about being, you know, being an action hero on top of a train, which is, like I said, so far removed from who I am. But I'm getting to sort of live out a few fantasies."
How Sean Connery got into the mindset of 007
To help him look the part, the film's director took Connery to a Savile Row tailor to get him fitted for a suit. Broccoli: "He said to Sean, 'All right, now it fits like a glove. And I want you to go home, and I want you to sleep in it. And I want it to become your skin.'"
Fun prop fact
In Dr. No, the bottle of 1955 Dom Perignon was a real bottle.
Product Placement? Or fruitful PR strategy?
Since Connery first drove an Aston Martin as Bond in 1964, it has shown up in five other Bond films. After the Z3 roadster appeared in GoldenEye, sales went through the roof. Broccoli and Wilson said that companies don't pay to be placed in a Bond film. Instead, they agree to spend millions marketing the movies. For example, Heineken, Bond's beer of choice in Skyfall, is spending $75 million on a worldwide ad campaign.
Craig's portrayal of Bond
Craig plays Bond as dark, flawed and human — just like author Ian Fleming wrote him. In a scene taken right out of Casino Royale, Bond is tied to a chair and tortured. Cooper: "When you go back to the Ian Fleming books, I mean, he's basically a guy who gets tortured a lot. And that's what happens to you, it seems." Craig: "Yeah, I mean he is tortured. He gets tortured and is tortured. You know Fleming has a love-hate relationship with him, and wants to kill him off all the time. But that's kind of part of the whole deal."
Is there an end in sight?
Skyfall — known in production as Bond 23 — isn't even out yet and there's already talk of Bond 24. Cooper: "Where does Bond go from here? I mean he's sort of done it all." Wilson: "That statement could have been made 20 years ago and been just as valid as it is today." Broccoli: "As long as audiences want to come see the movies, we'll make them."
Follow Sydney on Twitter @SydneyBucksbaum
[Photo Credit: CBS]
More:
James Bond Turns 50: Why The Franchise Should Never End
Dear Heineken, James Bond Doesn't Even Drink The Beer… In Your Ad – VIDEO
'Skyfall': Daniel Craig Turns James Bond into a Hell's Angel — PIC
From Our Partners:

'Paranormal Activity 4' Sneak Peek!
(Moviefone)

(Moviefone)