var NREUMQ=NREUMQ||[];NREUMQ.push(["mark","firstbyte",new Date().getTime()]);
~ Jeremy Wheeler, All Movie Guide">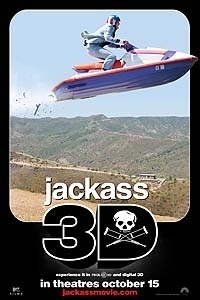 | | |
| --- | --- |
| Type | Feature Film |
| MPAA Rating | R |
| Runtime | 1hr 34mins. |
| Genres | Comedy, Sequel, Action |
| Status | N/A |
| US Release Date | 10/15/2010 |
December 04, 2013 10:51pm GMT+0000

Oscar Isaac gives a special, grounded performance in the Coen Brothers' magical folk singing New York City in 'Inside Llewyn Davis'

November 22, 2013 4:46pm GMT+0000

The network recently bought the rights to the majority of 2013's big blockbuster flicks.

November 06, 2013 4:07pm GMT+0000

How was Damon Wayans Jr.'s reunion with his old loft-mates?

October 07, 2013 8:19pm GMT+0000

These commercials with Ron Burgundy remind us there's another Anchorman movie on the horizon.

October 07, 2013 4:35pm GMT+0000

The indie director prepares for the release of a 'Jackass' sequel and his latest indie movie, 'Her' in the next few weeks.

September 30, 2013 5:42am GMT+0000

Vince Gilligan gives Walter White, Jesse Pinkman, and everyone else the perfect ending in the 'Breaking Bad' finale.

September 25, 2013 5:50pm GMT+0000

Learn about sandwiches and self respect!

July 24, 2013 8:04pm GMT+0000

Aubrey Plaza stars in 'The To Do List,' a teen sex comedy that shirks youthful spirit and charm in favor of bitter, hateful disregard.

April 03, 2013 3:18pm GMT+0000

The thriller's tension wavers depending who is on screen.

February 28, 2013 2:36pm GMT+0000

Where has the Wernham Hogg been these past 10 years?
Synopsis
The Jackass pranksters are at it again in this third outing, presented for the first time in 3D -- an effect that will no doubt redefine the use of the in-your-face technology. Once again Jeff Tremaine returns to direct the MTV Films/Paramount Pictures production.

~ Jeremy Wheeler, All Movie Guide