9 Minutes of 'Star Trek Into Darkness' to Boldly Go in Front of 'Hobbit'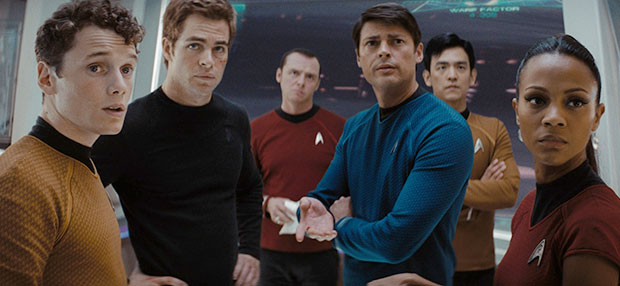 J.J. Abrams' 2009 reboot of Star Trek managed to wow both Trekkers (don't call them Trekkies!) and those who couldn't tell the difference between a Kirk or a Picard. The ignited fandom turned the movie into a major box office success, and now all eyes are on the film's followup, Star Trek Into Darkness.
Unsatisfied with playing host to just a highly anticipated blockbuster, Paramount has opted to kick Star Trek 2 into warp speed and send it straight to "event film" territory. In a press release, the studio announced that the first nine minutes of Abrams' sci-fi adventure would play in IMAX 3D starting Dec. 14, before screenings of The Hobbit: An Unexpected Journey.
Abrams shot portions of the sequel with IMAX cameras, allowing the film to take full advantage of the big screen format, unlike many of the converted films seen throughout the year. Star Trek Into Darkness follows in the tracks of other films with sequences shot natively in IMAX, including 2010's Mission: Impossible – Ghost Protocol and The Dark Knight Rises. Promoting the IMAX brand helped both films find bigger success than they might have in simply riding their established franchise's — Ghost Protocol hooked audiences by opening a week earlier in IMAX, leading to a gross of $694 million worldwide, while Chistopher Nolan's Dark Knight Rises previewed IMAX before Ghost Protocol (sparking interest and earning it over $1 billion worldwide). Star Trek Into Darkness hopes to capture that same early momentum.
Stark Trek Into Darkness reunites most of the original cast, including Chris Pine, Zoe Saldana, Zachary Quinto, Simon Pegg, Karl Urban, Anton Yelchin, and John Cho, and adds Benedict Cumberbatch as the still mysterious adversary of the U.S.S. Enterprise crew. The film soars into theaters May 17, 2013.
Follow Matt Patches on Twitter @misterpatches
[Photo Credit: Paramount Pictures]
More:
IMAX President Talks 'Skyfall': 'Bond Just Somehow Stays Cool'
'Star Trek Into Darkness' First Look: What In the Hell Is Spock Doing? — PIC
First Trailer for 'The Hobbit: An Unexpected Journey' Unveiled
From Our Partners:

'Twilight' Saga's Most Underrated Characters (PICS) (Moviefone)

Best (and Worst!) Movie Plot Twists Ever
(Moviefone)