Watch Justin Long Facebook Stalk Evan Rachel Wood in the Trailer for 'A Case of You'
Facebook stalking is a time-honored tradition designed to make us feel better about ourselves and research blind dates before we actually have to spend time getting to know them. Everyone's done it, even if they don't want to admit that they have. It makes sense, then, that Hollywood would eventually pick up on such a popular habit, and use it as the key plot device in a romantic comedy. That's right: there is actually going to be a movie about Facebook stalking. 
A Case of You centers around Sam (Justin Long, who is also a co-writer and co-producer), a shy, awkward writer who strikes up a conversation with a pretty barista named Birdie (Evan Rachel Wood) and then proceeds to woo her using the information on her Facebook profile to turn himself into the perfect man. Somewhere between being a terrible rock climber and posing as a guitar player, Sam's scheme works and Birdie falls in love with him. Only, he now has to deal with the moral dilemma of making the girl of his dreams fall in love with a false version of himself. Oh, and Peter Dinklage is there, stealing the trailer with blonde highlights and an impossible-to-pronounce name.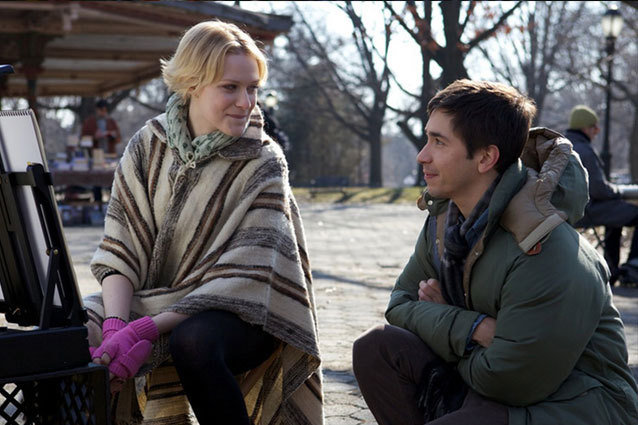 Based on the trailer, A Case of You will either raise some interesting questions about dating in the Internet age, or, more likely, it will be another sappy, quirky rom com about allowing love to bring happiness and meaning into your life. Unfortunately for Wood, who is an extremely talented actress, the character of Birdie appears to be yet another Manic Pixie Dream Girl, as we can tell from her unusal name to the unflattering striped blazer she wears with a bowler hat. Although, the writers do get some credit for not going overboard on the twee-factor and having her learn the banjo or didgeridoo. It's a shame — the concept behind the film is interesting, and we'd love to see a film which didn't bury it underneath so much quirk. 
A Case of You will be released in theaters, on iTunes and On Demand on November 6. 
More: 
'Vanity Fair' Teen Queens Cover is Ten Years Old 
'Game of Thrones' Star Peter Dinklage Visits Sesame Street
Brendan Fraser, Sienna Miller Cast in 'A Case of You'
---
From Our Partners:


A Complete History Of Twerking (1993-2013) (Vh1)


15 Stars Share Secrets of their Sex Lives (Celebuzz)