A Dapper Arnold Schwarzenegger Posts First Look From David Ayer's 'Ten' — PIC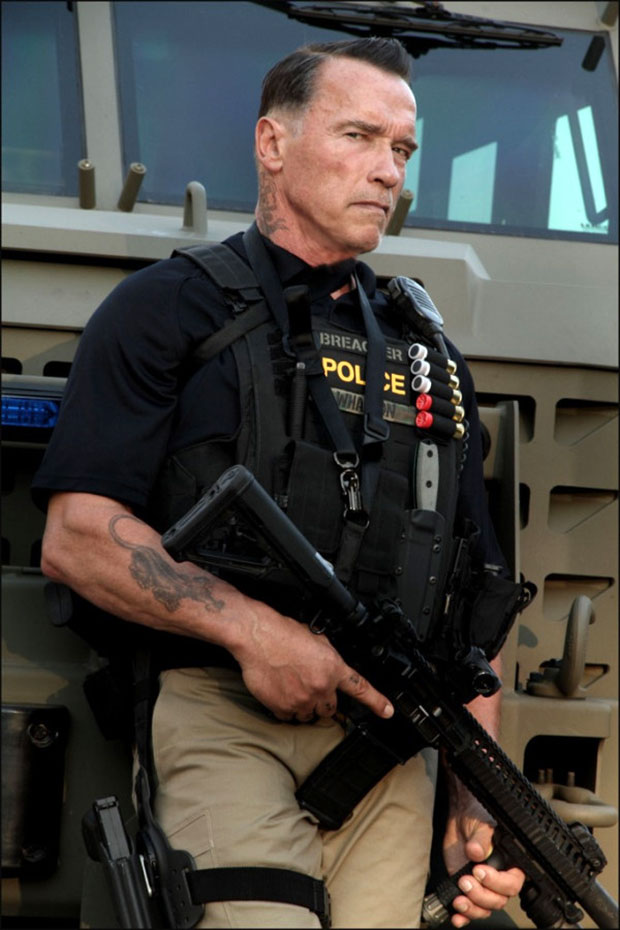 There was a time when Arnold Schwarzenegger wanted to try something new, branch out from the action hero mold that made him a full-fledged movie star in the first place. There was a time when he tried his hand at lighter, family friendly fare — such as Kindergarten Cop, Junior, and Twins — whose main punchline was that it was just so darn wacky to see the hulking Schwarzenegger in a variety of silly situations. (Well, and hear those gloriously indistinguishable pronunciations.) This, much to the relief of anyone who endured Jingle All The Way, this is not that time. 
Instead, the former "comedy star" and politico is going back to his roots: an action star with the gloriously indistinguishable pronunciations. This week packed a one-two punch of Schwarzenegger comeback news, not only with the announcement that he would return to the franchise that made him one of the biggest stars in the world,
Conan the Barbarian
, with the latest reboot
The Legend of Conan
, but the 65-year-old also shared with fans that he is already hard at work on his next action flick,
David Ayer's
Ten
. 
Schwarzenegger recently tweeted a picture of himself holding a gun, in full-on heavily armored police gear on the Atlanta set of Ten. (Plus, he's donning fake tattoos and an unnervingly childlike haircut!) The actor posted from his
Twitter
, "I'm having a great time working with @DavidAyerMovies on my new movie, Ten. Check out my look." You can clearly see why the guy is a best-selling
author
. And Schwarzenegger is nothing if not a brilliant
commentator
. 
In the movie, Schwarzenegger plays John 'Breacher' Wharton, the member of a DEA task force that's under investigation for stealing $10 million during a drug raid and begin to get picked off one by one. The film, which gets Ayer fresh off his moderate box office hit and critical favorite End Of Watch, also stars Joe Manganiello, Sam Worthington, Terrence Howard, Malin Akerman, Olivia Williams, and — LOST reunion alert! — Josh Holloway and Harold Perrineau. 
On the Ayer scale, it looks like it has the potential to be a little bit more
Fast and the Furious
than
Training Day
, but for fans of Schwarzenegger thrilled for his return to blow-everything-to smithereens action star status (in addition to
Conan
and
Ten
, he's also got
The Last Stand
and
The Tomb
lined up) that should be just fine. 
[Photo credit: Twitter] 
More: 
Arnold Schwarzenegger and Conan the Barbarian Are Back In Action
From Our Partners:

(Moviefone)