'A Good Day to Die Hard': Bruce Willis Is Not the Hugging-Type — TRAILER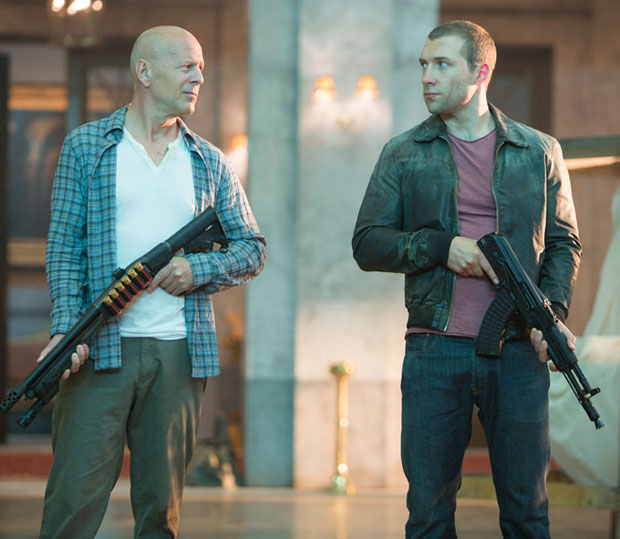 Christmas may have ended, but Bruce Willis is back with the next chapter of the yuletide-friendly Die Hard franchise, A Good Day to Die Hard (although the fifth installment is being released on Valentines Day, giving romance a new meaning). Iconoclastic, take-no-prisoners cop John McClane finds himself on foreign soil for the first time after traveling to Moscow to help his wayward son Jack (Jai Courtney) – unaware that Jack is really a highly-trained CIA operative out to stop a nuclear weapons heist. With the Russian underworld in pursuit, and battling a countdown to war, the father/son duo discover their opposing methods make them unstoppable heroes.
Check out the just-released trailer below:
It seems like we're in for the explosions, gunfire, and breath-taking action sequences that make a Die Hard movie what it is. This time around, we'll get to see John McClane in a whole new light — a father — but he's not exactly a normal dad, and his son isn't exactly the run-of-the-mill kid either. But really, what else would you expect from the McClanes?
A Good Day to Die Hard arrives in theaters February 14, 2013.
Follow Sydney on Twitter @SydneyBucksbaum
[Photo credit: 20th Century Fox]
More:
Tarantino's 'Django Unchained' Fact or Fiction: Mandingo Fighting, Bounty Hunters, and More
Iron Man Sends a Holiday Card: Stark the Herald Angels Sing! — PIC
'Les Mis' Star Samantha Barks on Singing in the Rain: 'Leave That Vocal Vanity at the Door'

20 Hottest Bikini Bodies of 2012: Kim Kardashian and More!