'A Good Day to Die Hard': John McClane is the 007 of Plainfield, NJ — TRAILER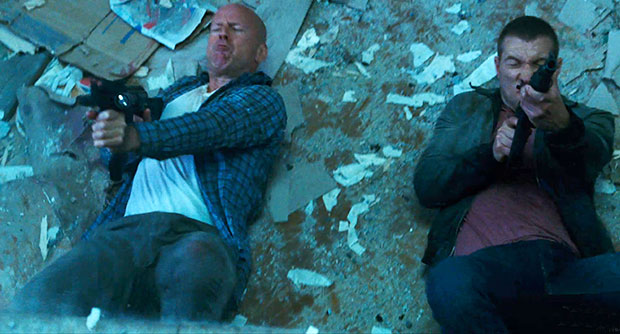 What makes a Die Hard movie a Die Hard movie?
Action aficionados might tell you it's the combination of everyman hero John McClane and a claustrophobic setting that puts the Jersey cop through the ringer. But later installments of the series drifted away from the close quarters action, pitting McClane against bigger and badder villains with a knack for concocting explosive set pieces. McClane's greatest foe in Die Hard was walking across broken glass. In the fourth movie, 2007's Live Free or Die Hard, McClane battles a fighter jet. Still a Die Hard movie?
The producers behind the long-lasting action series are going to attempt once again to redefine Die Hard with the fifth entry, A Good Day to Die Hard. Judging from the first trailer, the scale of the story has been amped up once again, sending McClane and his son, John McClane Jr. (Jai Courtney), into the thick of Russia for some international mayhem. The hope is the mere presence of Bruce Willis' wiseass character is the core of Die Hard — and it is, in some ways — but as McClane boldly points out at the tail end of the spot, he's less small town hero like in the first film, and more larger-than-life, James Bond secret agent with a blue collar upbringing. Maybe that's fitting for the modern era.
Check out the first trailer for A Good Day to Die Hard, which lands in theaters February 14, 2013.
Follow Matt Patches on Twitter @misterpatches
[Photo Credit: 20th Century Fox]
More:
Bruce Willis Finds a Son for 'A Good Day to Die Hard'
'Looper' Inspires Other Actors in Bruce Willis Makeup — GALLERY