'A Haunted House' Star Marlon Wayans: 'I Got Twice the Meat' as Channing Tatum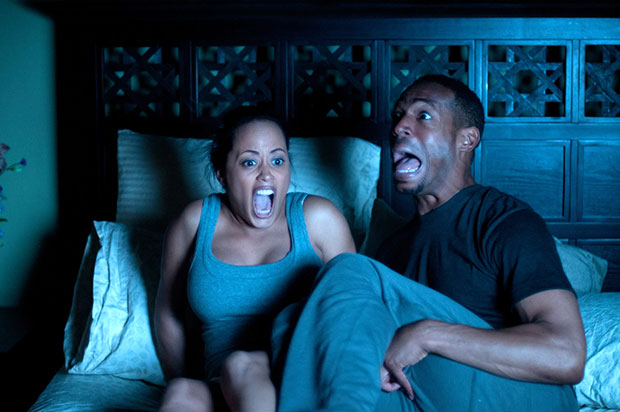 If you loved Scary Movie and Paranormal Activity franchises, then this movie is right up your alley. Marlon Wayans is at it again with A Haunted House, a parody of the popular found-footage style horror films, replacing the jump-out-of-your-seat moments with laugh-out-loud comedy.
When Malcolm (Marlon Wayans) asks his girlfriend Kisha (Essence Atkins) to move in with him, they record their everyday life (and diminishing sex life), realizing she's brought some extra baggage – a ghost. They ask for the help of an ex-con priest Father Williams (Cedric the Entertainer), Chip the Psychic (Nick Swardson) and Dan the Security Man (David Koechner) – among others – to exercise the demon.
Hollywood.com recently sat down with Wayans and Atkins to discuss Marlon's risqué performance (no animals or ghosts were harmed in the production of this film), why he wants to gag Seth MacFarlane's Ted character (this would be a different type of Thunder Buddy) and increasing man meat on the big screen.
"I think women don't see enough male nudity," Wayans explains his reasoning for stripping down on screen. "And I figured after Channing [Tatum] did with Magic Mike with the success of that… I got twice the meat on me, and if I can show all of that meat on screen…"
A Haunted House hits theatres Friday, Jan. 11. Check out our full interview with the comedic duo below:
[Photo Credit: Open Road]
More:
'A Haunted House': The Wayans Bros., "Scary Movie,' and Bad Spoof Habits
The 15 Most Memorable Shirtless Videos of 2012
'Hunger Games' Gets Mock(ingjay)ed in Parody 'The Starving Games'

Megan Fox's 12 Hottest Moments (Moviefone)

Ryan Gosling's 'Airbrushed' Abs: Plus 19 More Reasons We Love the Actor (Moviefone)