A Johnny Carson Movie! Who Can Play the Father of Late Night?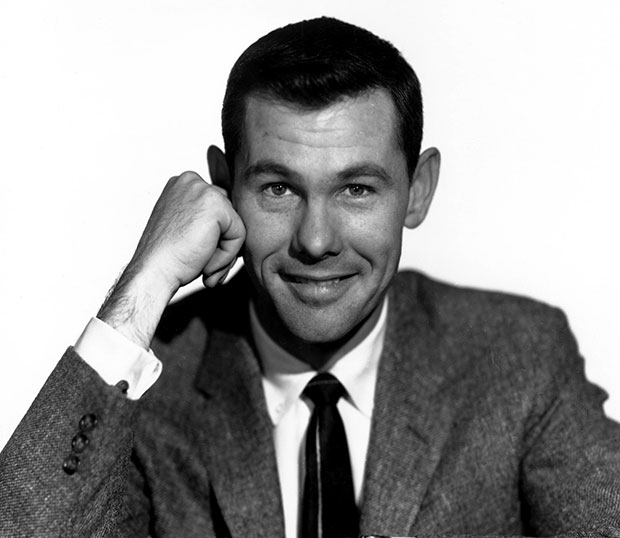 It seems as though, thanks to the perseverance of nostalgia culture, we are experiencing a heatwave of prospective biopics. Every week or so, you hear talk about another Hollywood icon who might earn his or her due on the big screen, with whatever talented young contemporaries attached to bring these stories to life. The latest subject is perhaps one of the most worthy: Johnny Carson, the superhuman comedian who came to host The Tonight Show from 1962 straight up to 1992. Deadline reports that Carson might find his life story brought to the theaters by producer Tom Thayer and screenwriter John McLaughlin (Black Swan, the upcoming biopic Hitchcock).
Carson is indubitably the most influential name in the late night hosting circuit, the artist who paved the way for all those to come thereafter, but who cast a perpetual shadow upon the lot as well. Immortalized by his timeless comedy routines (Carnac the Magnificent. Still funny.), Carson will be a difficult figure to embody for any contemporary actor. But there are some who might do the legend justice:
Not only is the Saturday Night Live vet experienced in parodying Carson, but he's also a truly capable actor who could well transform his career with a multifaceted performance like this one.
Some heavy makeup will be in order to age the young star, but Evans does have something of Carson in his features. He'll just have to loosen up a smidge to carry Carson's comic flare, but we'd be willing to see if it pans out.
Like Evans, there is some resemblance to a young Carson in this one's countenance. And Gosling does have the peppy zest for life that filled the spirited comic's ngihtly performances. Could be a winner.
Sure, he's kind of an odd choice, but couldn't you see the Lord of the Rings star transforming with just the right amount of subtlety into the Tonight Show's longtime man-in-charge?
Still waiting for his big break, the Boardwalk Empire star has definitely got the dramatic capabilities to handle the beloved figure that is Carson. The comedy? We'd bet on him.
Because when you're dream-casting a movie, it's sort of a given that you'll eventually consider Daniel Day-Lewis.
[Photo Credit: Michael Ochs Archives/Getty Images]
More:
Jackie Robinson Biopic '42' Looks Appropriately Inspiring — TRAILER
'Rust and Bone' Star Talks Marion Cotillard's Amazing Transformation — EXCLUSIVE VIDEO
Evan Rachel Wood Nabs The Lead In '10 Things I Hate About Life' — REPORT
From Our Partners:

'Twilight' Cast Now and Then (PICS) (Moviefone)
How to Be a Bond Director
(Moviefone)