A Lance Armstrong Movie Being Crafted by J.J. Abrams — Because You'll See It, That's Why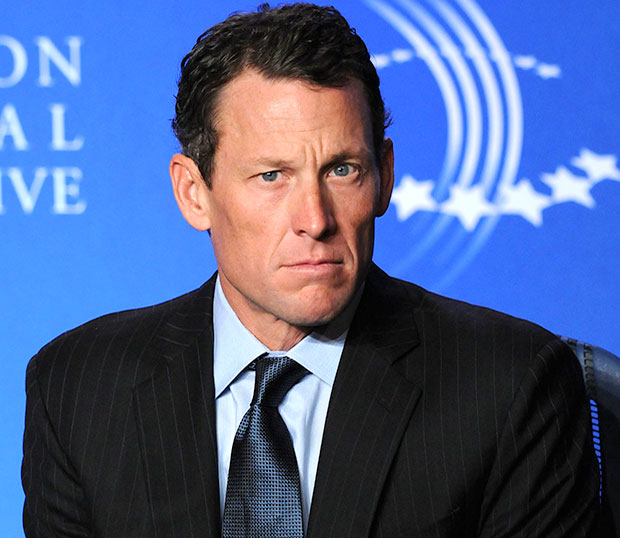 When Lance Armstrong was a hero, we loved him. We celebrated his victories, cried over his story, wore his bracelets, and even forgave his Sheryl Crow-inspired familial abandonment. It was a simpler time.
But we don't know how to live in a world free of Lance Armstrong. As a battery of inspiration, we fueled many of our workout plans, dietary regimes, and New Years resolutions. He was a resident in each and every one of our positive motivations. We can't be expected to just rid our lives of Lanceness in light of his fall from grace. We still need our regular fix of Armstrong. Now, it comes in the form of gossip column rumblings about his doping allegations. Not one, but two nights of Oprah coverage. And his own movie.
Yeah, as if you're surprised.
Deadline reports that Paramount is teaming with J.J. Abrams and his Bad Robot partner Bryan Burk, who have landed the rights to a feature film about Armstrong, in conjunction with the recently proposed HarperCollins book, Cycle of Lies: The Fall of Lance Armstrong … hopefully, Bad Robot will come up with its own title, lest we are to expect the movie to air on Lifetime.
Despite kicking off his career with the dramedy series Felicity, the mass of Abrams' recent productions (and there's a hell of a lot of 'em) have fallen in the realms of science fiction and thriller. Said trend isn't exactly likely to continue through this new production, but Bad Robot could imbue Armstrong's controversial story with some dramatic gravitas.
Hero or Villain?
The real big question regards what lens Abrams and company will opt for in the depiction of Armstrong. The one we loved? The athlete whose disapproving face we'd picture every time we thought, "Maybe I just won't go to the gym today"? Or the new Armstrong: the nefarious traitor of our humanistic spirits, the deceitful dope-hound, the homicidal lunatic… okay, that's going a bit too far — but damn it, I did push-ups for that man!
Do we want to see a sympathetic account of a good man who rides awry from the honest path, or the dark chronicles of a mustache-twirling shark who'd do anything to win?
Certainly, the latter has more inherent color to it. If there's one thing people love more than a hero, it's a villain. If there's one thing we'd rather watch than a rise to glory, it's a fall from grace. Seriously, what's wrong with us? Were we always this way? Did you do this to us, Lance?!
Who Should Star?
The even realer, bigger question: who should play Lance? Be he a good guy or a bad one, a project like this deserves and needs a strong central player. But there are many different routes that might be taken. The movie can go the way of the clean-cut charmer, like Rob Lowe. Perhaps instead, the dark, tortured sort, like Matthew Fox. Or maybe a total wild card: would anyone object to Jennifer Lawrence taking this one (a la I'm Not There.)? No. No one would. That would be amazing.
So, like it or not (you kinda do, admit it), a Lance Armstrong movie is underway. And no matter how he's depicted, who plays him, or how it turns out, it's got to be better than the last Lance Armstrong movie.
[Photo Credit: Wenn]
More:
Lance Armstrong Confesses to Oprah: Do You Forgive Him?
Lance Armstrong's Oprah Confession: 28 Revealing Quotes From the Interview
Lance Armstrong Confesses to Doping in Oprah Interview — Could He Face a Perjury Charge?

100 Hottest Women of the Century: Do You Agree?