Count 'A Million Ways to Die in the West' in the Film's Red-Band Trailer
Crushed by a giant block of ice, set on fire by a malfunctioning camera, run through by a bull, splinters: these are just a few of A Million Ways to Die in the West, and they're all featured in the red band trailer for Seth MacFarlane's latest film. The Family Guy creator stars as Albert Stark, a sheep farmer who's just trying to stay alive in a time and place where everything that isn't you is trying to kill you. After his girlfriend (Amanda Seyfried), leaves him as a result of his cowardice, he teams up with a gunslinger's wife (Charlize Theron), to try and win his former love back. The only problem is that to do so, he must face off against her husband, the deadliest sharpshooter in the west. The film also stars Neil Patrick Harris as Foy (the man Albert's girlfriend left him for), Giovanni Ribisi as Albert's friend Edward, and Sarah Silverman as Beth, the town prostitute.
Based on the trailer, it seems like A Million Ways to Die in the West will be a cross between Blazing Saddles and MacFarlane's last film, Ted, although it seems to be aimed at a slightly wider audience than that one was. MacFarlane was able to win over a lot of hesitant moviegoers with his previous film, which should be beneficial in helping A Million Ways to Die in the West repeat that box office success. Even if people aren't too interested in seeing MacFarlane's character, as he seems to basically be playing himself, but in 1800s Arizona, the rest of the cast has enough star appeal to help attract an audience. Plus, they almost all have a great deal of experience carrying a film, which should help in case the premise or the jokes start to wear a bit thin.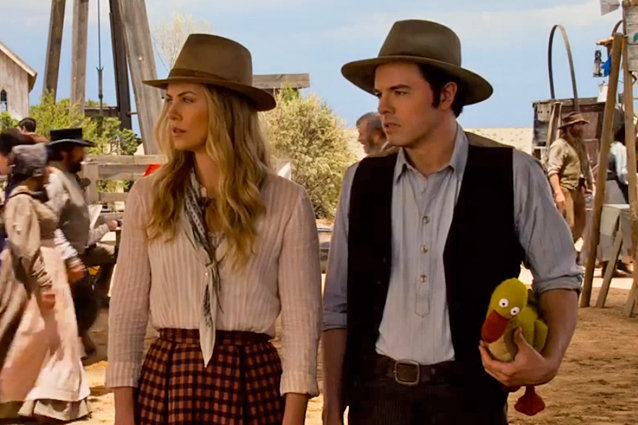 JoBlo.com/YouTube
However, even if you're not a fan of MacFarlane's, A Million Ways to Die in the West seems like it just might be funny enough to lure you into the theaters. He and Theron appear to have a good amount of chemistry, with her playing the tough straight-man to his nervous wisecracker. However, the supporting cast might be the real reason to see the film, as both Harris' moustache-twirling jerk and Liam Neeson's terrifying sharp-shooter looked poised to steal the show. Neeson's not known for his comedic chops, but he seems pretty comfortable in his role, a send up of all of the threatening action heroes he's played over the past few years. If nothing else, it might be worth catching A Million Ways to Die in the West to see Neeson transform from making unintentionally hilarious phone calls to purposefully showcasing his comedy skills.
A Million Ways to Die in the West will be released in book form on March 4, and in theaters on May 30 – if you can survive that long without dying in a freak ice-block accident.