A Very 'Paranormal' Box Office Weekend
Paramount Pictures about to get very Paranormal with the top two slots at the weekend box office.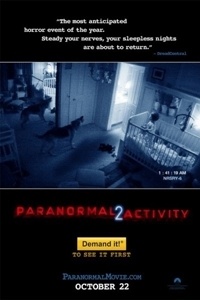 "Paranormal Activity 2" is positioned to give Paramount another huge weekend in the wake of the success of "Jackass 3D" which shattered all expectations and has already become a 3D fall season hit.  2009's "Paranormal Activity" which had a reported budget of $10,000 to $15,000 and a worldwide gross pushing $200 million, is the most profitable movie of all time and therefore predictions are all over the map for this latest installment.  Both a banker's and moviegoer's delight, the original film had its first wide release exactly one year ago in 1,945 theatres and a weekend take of $21.1 million.  Still, with "Paranormal 2" boasting 3,111 theatres and an IMAX experience to boot, a gross in the mid $20 million range seems within reach.  However, as we saw with "Jackass" last week, younger audiences can often surprise the analysts and post much higher numbers and therefore a gross in the low $30 millions would not be a shock. 
Check out our exclusive "Paranormal Activity 2" themed comic strip from Francesco Marciuliano.  Francesco writes the internationally-syndicated comic strip "Sally Forth" and the webcomic "Medium Large." He was the head writer for the PBS series "SeeMore's Playhouse," for which one of his episodes won two 2007 Daytime Emmys. He currently writes for the Onion News Network.

Of course it will take supernatural powers to dislodge the pure box office genius of the "Jackass" crew from the top spot after an astonishing $50.3 million debut last weekend.  With summer style mid-week grosses in the $4 million range and a $62 million total heading into the weekend, Paramount's "Jackass 3D" has the momentum of a human volcano and a shot at a second weekend gross in the mid $20 million range.  The jocular juggernaut could be pushing $85 to $90 million in domestic revenue by Monday morning.  3D proved to be a killer benefit to the film which gleaned 91% of its opening weekend from 2,448 3D locations.
After a tremendous six theatre debut last weekend, Warner Bros.' "Hereafter" will expand into wide release on Friday and should follow the typical pattern of success for a Clint Eastwood production.  As director, Eastwood is a brand that represents quality and audiences have made slow burn hits out of "Million Dollar Baby" and "Mystic River." Both films opened in a handful of theatres and went on to first wide release weekends in the $10 to $12 million range and then built upon tremendous word-of-mouth to wind up with grosses of $90 to $100 million.  Given the star power of Matt Damon, expect "Hereafter" to have a similar pattern with a weekend gross of around $15 million and strong long term impact on the box office as the critical and audience buzz builds in the coming weeks.
Summit's "Red" starring Bruce Willis and Morgan Freeman had a solid debut last weekend despite being overshadowed by the antics of Johnny Knoxville and should hold well this weekend with a gross of just over $10 million.  Older audiences who typically do not rush out opening weekend may find this the week to catch up on this ensemble action film.
Sony's "The Social Network" is pushing $70 million heading into the weekend and with low 30% weekend over weekend drops the norm for this audience favorite which is poised for another $7 million plus and $80 million on the box office horizon.  However, keep an eye on Disney's "Secretariat" which posted the lowest second weekend drop of the year last weekend and could prove a factor in the final stretch of this weekend's box office derby with a gross in the $6.5 to $7 million sweet spot.
Year-to-date revenues are at $8.48 billion heading into the weekend and are running 3.21% ahead of last year while attendance is still lagging by 2.3%.  Fall-to-date box office tells a somewhat depressing story with revenues off by 9% vs. last year and attendance running a whopping 14% behind last season.