A Visually-Striking First Trailer for 'Snow White and the Huntsman'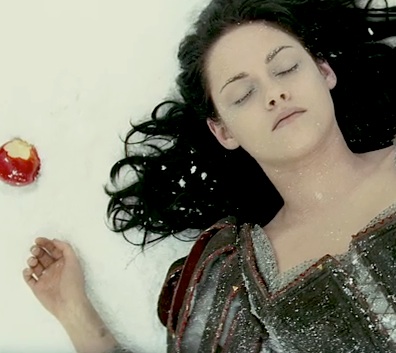 We had our first glimpse of the fantasy adaptation Snow White and the Huntsman at this year's San Diego Comic-Con, nabbing a sneak peek of the darker, LOTR-style direction the movie was evidently taking. This isn't the Disney Snow White, nor is it the cheery, colorful Mirror, Mirror awaiting us in 2012. This fairy tale spelled out its intentions loud and clear with the first image of Snow (Kirsten Stewart) adorning an armor and long sword. Remember that part of the story?
Now we have the trailer for the movie and the epic scale are boldly represented. Even after seeing the design for Stewart's Snow White, The Evil Queen (Charlize Theron), the Huntsman (Chris Hemsworth) and others, I wasn't entirely sold on the grand action movie version of the story. But the trailer piques interests, no doubt, with some dazzling imagery and creepy narration from Theron. Her Evil Queen takes the spotlight in this first look and she lives up to her name—terrifying.
Check out the trailer, then scroll down to see a few snazzy screengrabs and some brand new posters for the movie. Snow White and the Huntsman hits theaters June 2, 2012.
="font-style:>