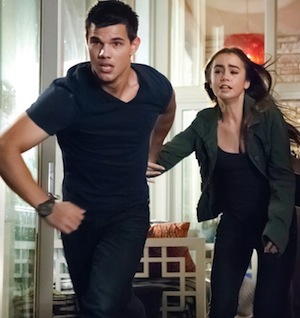 "You will then be responsible for the death of all your friends … on Facebook"
That's a defining line from Abduction an important movie for the semi-promising young Taylor Lautner. Did the muscle-laden Twilighter have the charisma to take on a leading role? To unleash badassery in his own action vehicle? Answer: inconclusive. Our review back in September gave a few props to Lautner but the uninspired Bourne rip-off wasn't "nearly entertaining enough to transcend the silliness of its premise."
But now that the movie is hitting Blu-ray it seems only fair to give Mr. Lautner a second chance. Maybe we missed the subtly in the teen's performance. Maybe we couldn't wrap our minds around the inspired kookiness of director John Singleton (2 Fast 2 Furious Four Brothers) choices. Maybe we didn't give ample appreciation the extreme stunts.
Nope. Definitely not. Abduction is one of the more laughably awful movies I've seen (and now rewatched) in a long time. Not a grueling cinematic experience but a truly terrible movie—albeit one that will have you laughing during every outragoues turn. From the movie's gaping lapses in logic ("there's a bomb in the oven!") Lautner and co-star Lily Collins inability to escape Pittsburgh or the energy-deficient action sequences—every moment is baffling silly and face-palmingly enjoyable. In Blu-ray the movie looks even more like a Funny or Die riff on Bourne and one almost goes blind from image sharpness during the the obligatory Taylor-takes-his-shirt-off moment (has anyone ever passed out from exposure to a six-pack?).
The extras coupled with the Abduction Blu-ray do a solid job of selling the over-the-top nature of the film helping one to realize that no one was taking the movie too seriously. The movie is Taylor Lautner's show and even in behind-the-scenes featurettes like "Initiation of a Hero " which spotlights the movie's big stunts (i.e. riding on the front of a car riding a motorcycle punching Jason Isaacs sliding down a window) and "The Fight for the Truth " a generic making-of focus on Lautner rising to the challenge of making Abduction. One of the disc's more insightful extras is the "Abduction Chronicle " Lautner's first-person production of the film. Yes it's fluff but seeing the movie dissected day by day is an interesting peak into the actual filmmaking process. There's also a customizable viewing experience that allows you to mesh the extras into the actual movie creating a picture-in-picture that sheds light on particular moments as your viewing.
Don't confuse Abduction for up to snuff action fare. Unless you're a hardcore Taylor Lautner fan or looking for $20 to kill picking up the disc isn't worth your time. But if you find the Abduction disc crossing your path in the future don't pass up the chance of watching Lautner work his magic. You've never seen a man stare so blankly the glance circles back to certified emotion.