'Abraham Lincoln: Vampire Hunter' Inspires Other Kick-Ass Presidential Crossovers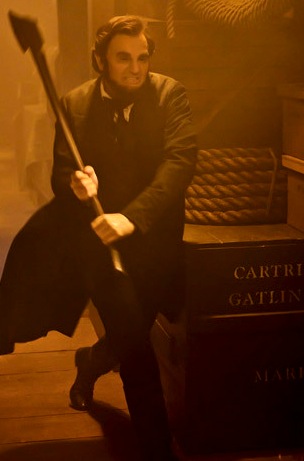 Chocolate and peanut butter. Baseball and hot dogs. Abraham Lincoln and vampires. Some things are just better when they're together. (Sorry, Snooki and JWOWW, this no longer applies to you.) 
If the history lesson/pop culture phenomenon mashup
Abraham Lincoln: Vampire Hunter
, with
Benjamin Walker
as the titular history-bending, vampire-slaying POTUS, based on
Seth Grahame-Smith
's book of the same name, connects with audiences this weekend, don't be surprised if you see Hollywood turn out some more Presidential action hero treatments. 
In honor of the release of Abraham Lincoln: Vampire Hunter, the absurd re-imagining of a significant page in America's history, we wanted to come up with some other treatments of our own.
– Millard Filmore: Party Animal: 13th President by day (played by Vince Vaughn) who, at the strike of midnight, turns into a party animal. A-woooooo! Tagline: "This summer: Whig out!"
– Woodrow Wilson: Werewolf Wrangler: Geoffrey Rush sheds his accent to play the 28th President of the United States, who eventually decides to involve America in World War I. World War I, now, of course being the world against werewolves. Woodrow Wilson vs. World War Werewolves. So much alliteration!
– Jimmy Carter: Zombie Crusher: Kindly Jimmy Carter, no more. Greg Kinnear's sweet face will turn deadly serious when he turns the 48th President into a full-on zombie crushing badass that would make The Walking Dead's Daryl Dixon look like a weakling. 
– Richard Nixon vs. the Mummies: The 46th President — played once again by Sir Anthony Hopkins, because why not? — is desperate to keep something under wraps….a legion of mummies, of course! 
– Seeing as former Vice President Al Gore already had his own action hero makeover with Al Gore: Global Warming Lecturer (An Inconvenient Truth, if you must) it seems only fair that other Veeps get their own treatment. I vote Dan Quayle: Farm Aide, in which George H.W. Bush's right hand man, played by Chris O'Donnell, fights off droughts and pesticides with a potato(e?) gun. 
[Photo credit: 20th Century Fox] 
More: