'Abraham Lincoln: Vampire Hunter' Star Anthony Mackie Talks Rewriting History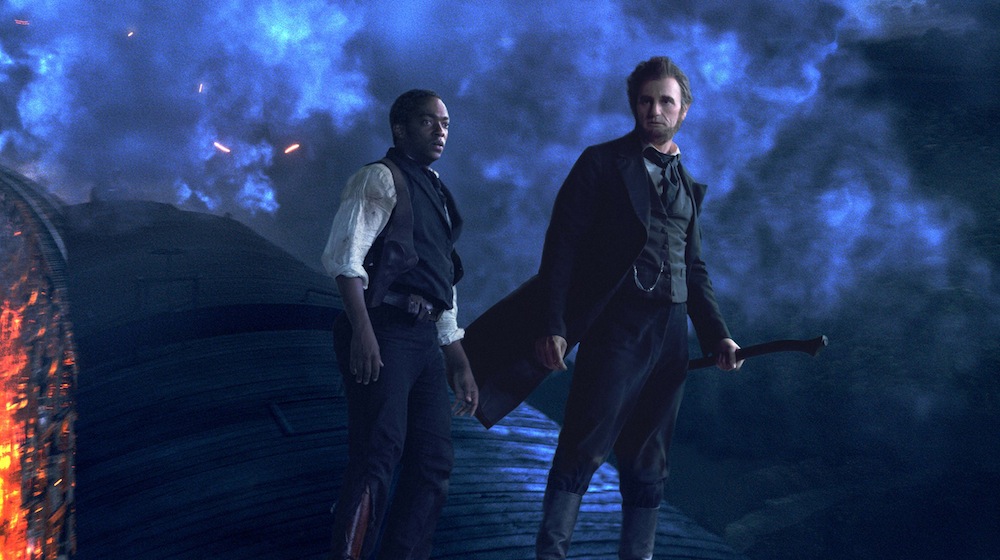 When one sees the title Abraham Lincoln: Vampire Hunter, Seth Grahame-Smith's adaptation of his book of the same name, one immediately knows a few artistic liberties have been taken with the story of the 16th President of the United States. But director Timur Bekmambetov's 3D vision of a Buffy-ized Abraham Lincoln could just do for history classes what Baz Luhrmann did for  Shakespeare when he tailored Romeo + Juliet to Gen X with modern music and a sexy, hip cast. 
At least, that's the hope of some of the film's cast, including Anthony Mackie, who plays Lincoln's best friend and right hand man William H. Johnson. In fact for Mackie, who — among his impressive accomplishments — already has a pair of Best Picture winners (The Hurt Locker, Million Dollar Baby) and Ryan Gosling collaborations (Half Nelson, the upcoming Gangster Squad) under his belt, the addition of those oh-so-popular vampires to a huge chapter of American history was one of the things that drew him to the unconventional script. 
"[Hollywood] has done the biopic," Mackie said during an interview with Hollywood.com, "And I love the idea of reinventing our great leaders, of recontextualizing educational figures. Because we are living in a three-dimensional society now, so we are no longer a chalkboard learning system….And I think that if you gotta infuse vampires to get people excited, f***ing infuse vampires!" 
Of course, the real slight of hand with Abraham Lincoln: Vampire Hunter isn't just turning one of America's greatest and most important political leaders into a full-blown action star (here, Honest Abe's axe isn't just used for chopping down trees, but for some serious vampire ass-kicking), it's that it actually is largely a biopic, in spite of its outlandish premise and title. 
Mackie can attest. "When I met with Timur,  I was like, 'So, is this a camp piece? Is this a Mel Brooks movie?' And he said 'No, we're making a straight biopic. This is real. Those vampires were real. William H. Johnson was real. Slavery was real.' And I was like, 'Wow! That's crazy! I'm in!'" But even with the added spectacle of vampire hunting, Mackie was given a tremendous undertaking with the role. 
The 32-year old actor was given the important task of not only playing Will Johnson, but introducing his relatively unknown, but significant place in U.S. history to moviegoers. "That's [really] why I wanted to do the movie. It's exciting when you think about what he meant in the annals of history. He was the friend of the guy who wrote the Emancipation Proclamation, who lead us into the Civil War, and gave the Gettysburg Address. So, it's partly because of him we are where we are." 
While there isn't much documented about Johnson, what is known is not only fascinating, but an indication of who Lincoln was as a leader in Civil Rights, but as a man.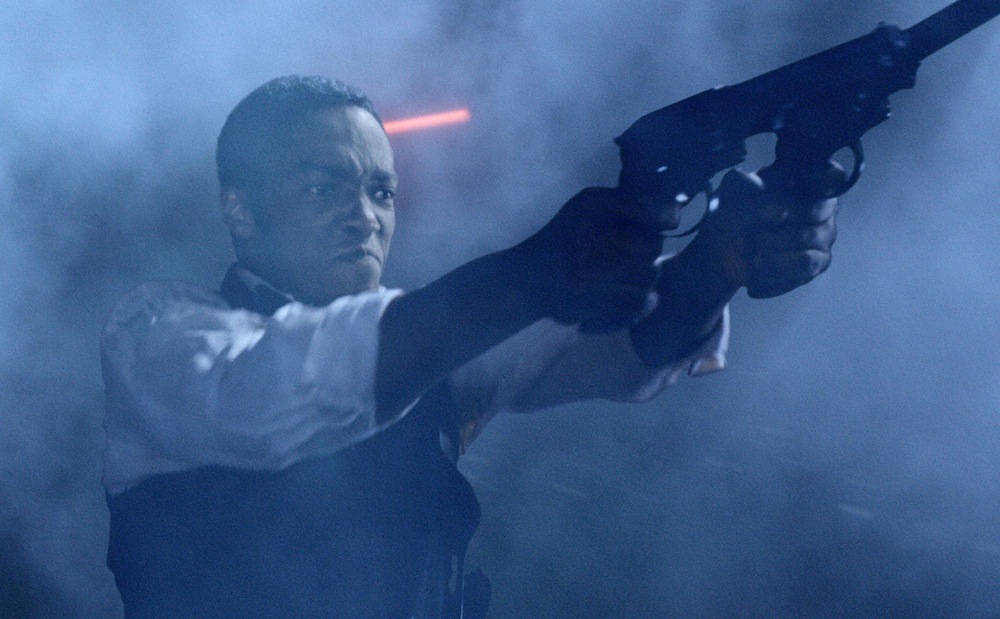 Johnson, an African-American, worked for the Lincoln family around the early 1860s and even accompanied the President on his famous trip to Gettysburg. As the story goes, when Johnson died in January 1864 after contracting smallpox, Lincoln saw to it that his confidante was given a proper burial at his expense and his headstone read "William H. Johnson: Citizen." (A headstone with that very engraving located in Arlington cemetery is thought to be his.) 
Mackie, who is no stranger to playing real-life figures (before any holograms came into the picture, the New Orleans native brought Tupac Shakur back to life in 2009's Notorious), told Hollywood.com he felt "a huge responsibility" to tell Johnson's story. Keeping in line with the rest of the film, Abraham Lincoln Vampire Hunter also takes some liberties with Johnson's story as well. (In the movie, Johnson, who does not appear in Grahame-Smith's book, is portrayed as a lifelong friend of Lincoln's, not to mention a fellow vampire slayer.) But it was what happened at the core of Johnson and Lincoln's working relationship, especially at that pivotal time in U.S. history that Mackie focused on. 
"What I looked at more specifically was the relationship between African-Americans and white Americans at that time, because for Abraham Lincoln to stand up and say, 'This is my dude, he's going to travel with me, he's with me, that's my man, let him in, put him in the front row,' is crazy," Mackie explained, "For him to do that was kind of magnificent, in a way. I think it took a certain aspect of humanity and dignity, and a common respect, and that was something I wanted to portray in the character more so than anything else." 
It was a dynamic Mackie was glad to get to explore with his costar, Benjamin Walker, who plays the titular vampire hunting Abe Lincoln. Particularly the research-intensive aspect of playing two significant historical figures. "I was so glad Ben was on it, [he has] the ability to take a script, break a script down and talk about it from different perspectives and different character objectives, "Mackie said of his fellow Julliard grad, adding, "You know, you have to do a lot of homework when it comes to being an actor, especially on a project like this. You have to sit at home and read books and figure shit out. Because if you show up and you're like 'Ehh?' you're going to have egg on your face." No eggs here. Just buckets and buckets of spilled vampire blood. 
[Photo credit: 20th Century Fox]
More: 
Abraham Lincoln: Vampire Hunter: First Look at Anthony Mackie — PHOTOS 
Abraham Lincoln: Vampire Hunter: A New Era of Tall Tales