'Abraham Lincoln: Vampire Hunter' Star Mary Elizabeth Winstead On Becoming Mary Todd Lincoln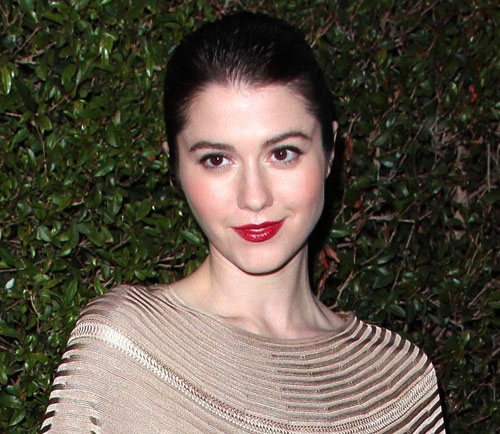 Mary Elizabeth Winstead has already had the distinguished honor of playing both the blue-haired object of Scott Pilgrim's eye (Scott Pilgrim vs. the World) and John McClane's offspring (Live Free or Die Hard.) Now the actress can add another high-ranking title to her impressive resume: the First Lady. 
The 26-year-old plays Mary Todd Lincoln, wife of the 16th President of the United States of America —  and now, vampire combatant — Abraham Lincoln in
Abraham Lincoln: Vampire Hunter
. Like the rest of the film some artistic liberties were taken with the portrayal of the First Lady, including how she looked (having three names is about as close to resemblance as the two women have) and excluding her oft-speculated bipolar disorder. 
But even with the changes, Winstead, who chatted with Hollywood.com about her work on the film, says there's still traces of the Mary Todd Lincoln we all learned about in history class and the one in writer Seth Grahame-Smith's script. "The more I learned about her [while researching], the more I wanted to bring as much truth to her as possible, and I feel like she's represented in the film in a realistic way to how she really was. I expected to read about her and for her to be wildly different from the way she was in the script, but I was surprised to find that it actually all matched up really well," Winstead explained. 
Winstead credited director
Timur Bekmambetov
with rooting the grieving (a Lincoln family member is killed by a vampire) and, yes, ass-kicking First Lady (Mary Todd gets in her own satisfying vampire kill, which Winstead admitted was a good thing, "otherwise it would have been a bit of a letdown") in some reality. "Timur was great about talking to me about what was happening in her life that you don't see in the movie. "During a scene, he would say, 'This is what she was doing right before she walked in the door,' or 'This is what she's thinking when she's not on screen'," Winstead told Hollywood.com, "So it sort of feels like all those things are happening in her life, you just don't see it in the movie, but when I'm watching, I can see it in the air of what's happening, and in their interaction, you can see how tense it is, and you can see how emotionally troubled they both are, but it's just not spoken about." 
But it wasn't just getting unseen details down for the film, but infusing a certain sensitivity about such an important time in American history. It was a responsibility, the star acknowledged, the cast and crew didn't take lightly. "We were filming in some places that had a really heavy air about them," Winstead said of the Abraham Lincoln: Vampire Hunter shoot, "Like, we'd be filming on old southern plantations where you could see the slave quarters, and you felt the seriousness of that place, and the history of it. And those were moments where you felt like, okay, I hope we're doing this right, and I hope we're showing people that we're really not trying to be offensive in any way, we're not trying to make fun of the real story behind this, we're really just trying to show a metaphor, really, for what happened. With Timur, you can see that he took the real story very seriously, and he had so much respect for Abraham Lincoln, and showed a lot of reverence for the real story and real events."
Still, there was some levity on the set. This is, after all, a movie called Abraham Lincoln: Vampire Hunter. In addition to donning some impressive old age makeup ("It was cool to look in the mirror and think, 'I wonder if this is what I'm gonna look like',") Winstead and her on-screen husband, Benjamin Walker, a fellow music enthusiast, took advantage of getting to film in New Orleans. "We went out to a lot of jazz clubs,and saw live music, and we went to Jazz Fest. Ben and I would sometimes just hang out and he would play guitar and we would sing songs and stuff like that, you know, cheesy little singer downtime things." 
It seems Winstead has been spending a good amount of time having fun on her sets. Not a difficult task when working on projects like Abraham Lincoln: Vampire Hunter or the upcoming ensemble comedy A.C.O.D., which features Amy Poehler, Adam Pally, Jane Lynch, and Adam Scott, among others. Winstead, who plays Scott's love interest in the comedy about, well, adult children of divorce, enjoyed a different kind of cut up. "It's the funniest people, it was so hard for me to keep a straight face during scenes. Like, one scene I was watching Catherine O'Hara and Richard Jenkins just improv, and [they're] going so quickly, and it's so funny, and I was just in awe." Okay, we'll bite. 
Abraham Lincoln: Vampire Hunter opens in theaters nationwide today. 
[Photo credit: WENN.com/FayesVision] 
More: