'Abraham Lincoln: Vampire Hunter' Star Rufus Sewell On Playing the Villain, Yet Again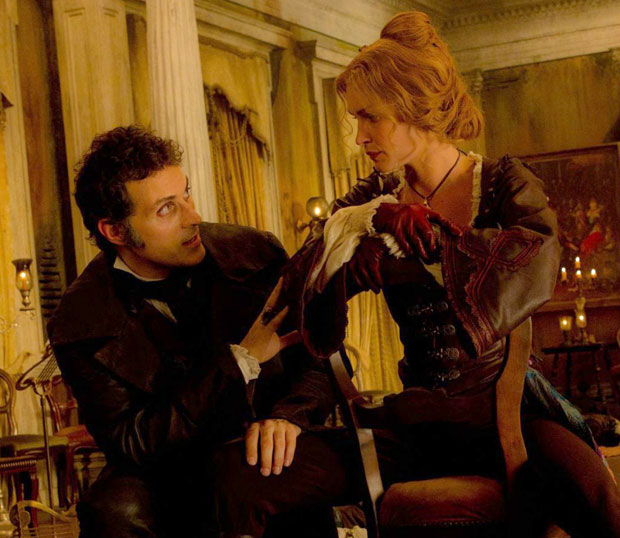 Sitting down with Rufus Sewell for a face-to-face interview is a disorienting experience, to say the least. First of all, it's difficult, if not damn near impossible, to not get distracted by those eyes. Secondly, it's easy to forget he's played a bad guy in so many films —including as the unrelenting vampire leader Adam in this weekend's Abraham Lincoln: Vampire Hunter — after you've been introduced to his charming off-screen nature. (In fact, don't be surprised to hear him call you "darling" in that posh English accent.)
So it makes sense when you learn how Sewell decided to approach the role of Adam, a 3,000-year-old vampire who will stop at nothing or no one (not even one Abraham Lincoln, played here by Benjamin Walker) to ensure vampires take over the human race. During an interview with Hollywood.com, the actor explained that while the ruthless Adam is "a savage and a thug," he saw him as almost a political figure in his own right. A fellow charmer, if you will. Or as Sewell put it, "a vampire's vampire. Someone who didn't kill unnecessarily and vulgarly, but if he needed to, he was your guy. He considered himself to be an equal to Abe, and Abe to be an equal to him, someone who could sit down and have a fireside chat about problems and come to some kind of agreement." 
But even more than Adam's ability to, perhaps work a room, Sewell (pictured here in a scene with costar, model Erin Wasson) also considered the gravity of what it would be like to have a vampire's greatest gift and curse: eternal life. "I had to think about what the way you regard the machinations of human history and politics, and the fleetingness of human life. And that alone – the fleetingness of the human civilization, the span of that, which you've seen come and go, let alone an individual life, and how politic that would make you, in terms of your grand scheme," the 44-year-old said during our chat, "So I think he's quite familiar with it, he's quite wise, and he's a pragmatist. As far as humans are concerned, he's seen them come, he's seen them go, and they're all the same." 
Pretty heavy for a movie called Abraham Lincoln: Vampire Hunter, no? But in truth, Sewell's attitude about the film mirrored that of his director Timur Bekmambetov and his cast mates, including Mary Elizabeth Winstead and Anthony Mackie. That there's something deeper at the core of the movie — which Sewell described as "[a biopic] with some weird-looking extras" — than it's outrageous title would suggest. "There are things in this film that actually are quite educational. People will smirk, and I don't care if they do. Because it's a good smirk," Sewell told Hollywood.com, "There's stuff that I didn't know about Lincoln, that in order to tether it in any kind of believability, they've kind of really gone as accurate as they possibly could where they could in order to gain purchase on the truth to bounce into the air for these flights of fancy."
A graduate of London's Central School of Speech and Drama, Sewell, who admitted he's become more of a history buff further in his career and revealed that he chose to altar his accent to give Adam the "twang" of an "early Hollywood, mid-Atlantic industrialist accent" almost missed out on the opportunity to be part of Abraham Lincoln: Vampire Hunter entirely.
"He didn't come until later. The earlier scenes weren't there either, so he just appeared halfway through the film, and then was involved in the fight," Sewell explained of Adam's place in Seth Grahame-Smith's screenplay. "And then, the offer kind of went away because they decided, in the politest of ways, that they'd maybe have a very much older actor play the part, but that was a different angle on it. But then they changed their mind again three weeks before filming, which was a bit of a scare, to get the visa in time. By the time the script came back, it was a much better role." 
He continued, "And I kind of had the feelings that if the part had originally been that rich, there might have been other people interested in the role, it might have been more difficult for me to get it. So I kind of got in through the side door. Which, believe me, I'm quite happy to do. It's my M.O. No, my M.O. is normally to be locked out of the house." 
A jest, of course, as Sewell is anything but "locked out" these days. The actor recently wrapped a few projects, including the British gangster film All Things To All Men with Gabriel Byrne,  the mystery-drama I'll Follow You Down with Haley Joel Osment, and an indie called Amal. In addition to all that, Sewell will also start work on a film for the BBC, titled Restless. "I'm rarely this busy, so I'm smug," he joked. 
Of course, no matter how charming or no matter how much impressive work he produces (the thespian has a resume that boasts films like Dark City and The Illusionist and TV miniseries such as The Pillars of the Earth and John Adams) Sewell may never be able to shake the one thing so many people associate him with: the bloke who broke Kate Winslet's heart in the 2006 romantic comedy The Holiday. 
"People often go 'Are you in that film?' and I'm often the one who has to point out, 'Yes, I was the d***head.' People say, 'I love that film!' and I say, 'Yeah, but you didn't love me in it!'," Sewell said, "I think the scorn that I will receive for trying to kill Abraham Lincoln is nothing…nothing to what I get for having treated [Kate Winslet] bad." 
[Photo credit: 20th Century Fox] 
More: