'Act of Valor' Coming to Blu-ray and DVD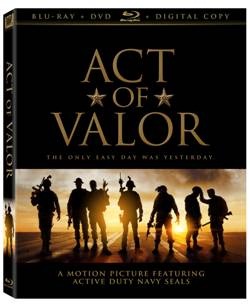 Act of Valor is a new kind of war movie. The kind that actually places real soldiers on screen to take audiences through an especially realistic military experience. The feature directorial debut of producers/stuntmen Mike McCoy and Scott Waugh stars actual Navy SEALs in a story about a hostage situation involving a CIA agent, giving America a cinematic glimpse into the operations performed by their nation's armed forces. The movie is coming out on DVD and Blu-ray on June 5.
Below is a complete list of the special features included on the DVD and Blu-ray packages. 
DVD SPECIAL FEATURES
Deleted Scenes
Christmas in the Barracks
MREs
Shabal in Winter Palace
Christo's House
Shabal on Boat
Shabal in Kiro
Director's Commentary
BLU-RAY SPECIAL FEATURES (All of the above DVD special features, plus…)
Interviews with the Navy SEALs
Rorke
Dave
Mikey
Ray
Sonny
Ajay
Weimy
Featurettes
Making Of
Real Bullets
Real SEALs Real Tactics
Silent Warriors
"For You" Music Video by Keith Urban
Making of the Music Video
Director's Intro